Innovative tremolo technique by Johann Kaspar Mertz and his contribution to terz guitar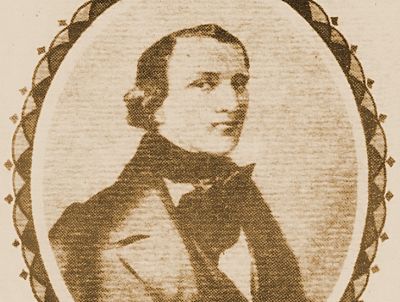 Johann Kaspar Mertz
Johann Kaspar Mertz
was an Austro-Hungarian composer and outstanding guitarist of the
Romantic era
who is credited with developing a special technique that helps sustain the melodic line. In addition to the melodic tremolo that was common for many guitarists of his time, Mertz created tremolo patterns in an inner voice to provide sustain.
During his career spanning the 1840s and 1850s, Mertz has written about a hundred works mainly for guitar solo, guitar duo, and for guitar with piano accompaniment among which his operatic fantasies were most in demand. Sadly, only educational and uncomplicated pieces were published during the composer's lifetime since it was amateur musicians who were the main consumers of musical scores to perform well-known operatic themes at home concerts.
Being a truly gifted guitarist, Mertz traveled extensively throughout Europe, giving concerts in
Germany
,
Austria
, and
Poland
, often in a duet with his wife Josephine Plantin, an excellent concert pianist and co-author of some of the composer's works.
In 1852, one of the most significant pieces by the family duo was published, in which the classical guitar and piano were applied for the popular genre
barcarolle, rooted in folk songs of the Venetian gondoliers
. Mertz also adapted his
Barcarolle
for a guitar duo, though this version was not released until half a century after the composer's death.
Listen to Johann Kaspar Mertz's Barcarole performed by Duo Orfeo:
There is evidence that Mertz preferred to play with his fingernails, which allowed him to get sufficient sound volume during concerts and develop a high speed of performance. It is interesting that the technique of the right hand was the subject of constant debate among guitarists of the 19th century since it was believed that playing with nails impairs the sound of the instrument, but Mertz reported that his method allowed to achieve a superior tone.
Listen to Johann Kaspar Mertz's An Malvina performed by Pavel Steidl:
In addition to the usual six-string guitar, Mertz played the guitars with a wider tessitura, including eight and ten-stringed instruments equipped with additional bass strings as well as a terz guitar which is slightly smaller than the standard size instrument and is tuned to G, a minor third higher than the usual E tuning.
​It was on the terz guitar that the composer performed his duets with the piano, while his guitar duos involved six-string and terz guitars.
Modern guitarists sometimes use G tuning by setting a capo on the third fret or by pulling special strings providing the normal tension while tuning more highly.