Jazz dinosaur of the new generation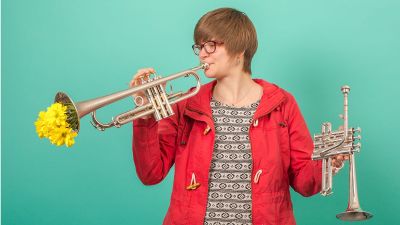 Laura Jurd
Rising English trumpeter Laura Jurd has garnered an armful of awards in her relatively brief career, including both for composition and as an instrumentalist.
Jurd's 2012 debut, a suite of her own composition for string quartet and jazz group, introduced her as one of the most promising newcomers on the London scene. Her 2015 follow-up Human Spirit, with a more conventional jazz septet line-up, delivers on the promise with a set of new tunes straight from the heart of the tradition, along with plenty of fresh ideas and contemporary twists. 
As a composer, Laura has written music for a range of ensembles including the BBC Concert Orchestra, the Ligeti Quartet and the Northern Sinfonia with commissions from the likes of BBC Radio 3 and the EFG London Jazz Festival. 
Her band Dinosaur is one of the most vital and creative new ensembles in the UK today. Described by All About Jazz as a musician who "embraces melody, harmony and groove as much as she provokes with blasts of dissonance and gutsy angularity", it is her ability to combine the sweet with the abrasive, the soothing with the fiery, that makes her music so compelling.
Laura explains:
"Having worked together as a band over the past six years, we have produced a record that is a testament to our close friendship, the time we've spent developing a cohesive sound and our passion and dedication to the art. (...) The process continues to be a natural and joyous experience and we're looking forward to whatever the future has in store." 
Watch Quiet Thunder by Dinosaur, filmed at Fieldgate Studios, Wales:
After receiving a rare 5-star review in the Guardian for their 2016 debut album, the band have toured extensively in Europe and beyond at some of the world's most prestigious festivals including North Sea Jazz, Montreal Jazz Festival, and Molde International Jazz Festival.