Méditation from Thaïs: Massenet's intermezzo as the best violin encore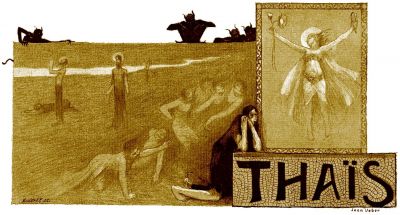 Thais 1894 by Joam Veber
Méditation
is one of the best-known orchestral works by the
Romantic
-era composer
Jules Massenet
 which appears as an intermezzo in the key scene of the 
Thaïs
opera. The opera libretto follows the literary plot set by
Anatole France
in his novel of the same name, describing the life of St. Thaïs, a fourth-century Egyptian courtesan.
Written for solo violin and orchestra, Méditation represents Thaïs' nightly reflections on the radical change in her life prompted by the fervent speeches of Athanaël, a Cenobite monk and her childhood friend in the book canon. As a result, Thaïs decides to leave her wealthy accommodations, leaving behind all tokens of her previous life of luxury, with the purpose to spend three years of solitude in a convent cell.
The drama of the opera revolves around the monk's late realisation of his true feelings for Thaïs, but by the time he comes to terms with his love for her, she has already made the decision to repent for her sins. Despite Athanaël's pleas to marry him, Thaïs refuses to abandon her cell and join him. In the finale, Thaïs dies and the inconsolable monk weeps at her deathbed.
Curiously, Massenet wrote the complex title vocal lines specifically for the outstanding soprano Sibyl Sanderson which is part of the reason why vocal Thaïs productions are so rare these days. At the same time, the melodically-refined violin part of Méditation from Thaïs is considered by many musicians to be the perfect piece for an encore and is therefore performed intensively.