Zigeunerweisen: folk tunes meet the Csardas dance in Pablo de Sarasate's most popular work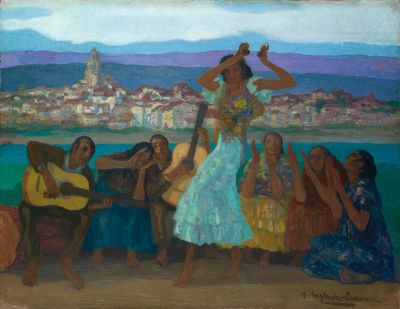 The Gypsy Dance by Hermenegildo Anglada-Camarasa
Zigeunerweisen is one of the best-known violin works based on Hungarian folk melodies and Romani music motifs as evidenced by the title. The piece was conceived for violin and piano by the legendary Spanish violinist Pablo de Sarasate in 1877 during his visit to Budapest and published the very next year.
Following the instant success of Zigeunerweisen, Sarasate soon released an orchestral version and also recorded his own performance with piano accompaniment in the early 1900s when sound recording technologies were sufficiently developed.
Pablo de Sarasate was an extremely popular figure of late
Romanticism
whose concerts were attended even by Sherlock Holmes and Dr. Watson as described in
The Red-Headed League
by Arthur Conan Doyle. It is reported that Queen Isabella II of Spain, enchanted by the music of Sarasate, presented him with a violin made by Antonio Stradivari and supported his further studies at the Paris Conservatory.
The appearance of the brilliant violinist in Paris is associated with a growing interest in Spanish folk music throughout Europe, and the first step in this direction was the collaboration of
Edouard Lalo
and Sarasate which culminated in the famous
Symphonie Espagnole
.
Zigeunerweisen is written in four sections, namely Moderato, Lento, Un poco più lento, and Allegro molto vivace which are usually performed as one movement and without interruption. Unfortunately, the third section is omitted in the recording of Zigeunerweisen, the choice made by the composer himself due to technological limitations associated with the duration of a single recording.
Listen to Zigeunerweisen performed by Pablo Sarasate and Juan Manén:
Thematically, the first two sections of Zigeunerweisen are based on folk melodies of the Roma people heard by the composer from various folk ensembles during his visit to Budapest.
The third section, entitled Un poco più lento, is a variation on the melody of the little-known Hungarian composer Szentirmay Elemér which was not mentioned in the original score of Zigeunerweisen. In his letter to Sarasate, Szentirmay Elemér asked to indicate his authorship and Sarasate, having fulfilled his wishes, sent an apology explaining that he had been assured by traveling musicians of its true folk origin.
The fourth section is Sarasate's arrangement of
Csárdás
, a popular Hungarian dance whose theme has already appeared in
Hungarian Rhapsody No. 13
written by
Franz Liszt
in 1847.
Listen to
Zigeunerweisen
performed by John Barbirolli and London Symphony Orchestra with
Jascha Heifetz
as a violin:
Being a rather popular work of classical music, Zigeunerweisen often appears on soundtracks, in computer games, and in pop music arrangements. 
The 1980 film titled Zigeunerweisen was directed by Seijun Suzuki who based the story on the Hyakken Uchida's novel, Disk of Sarasate, which revolves around the events transpired during the first recording of the piece made by Sarasate at the beginning of the century. Even the legendary Hong Kong director Stephen Chow featured Zigeunerweisen in the chase scene in his very successful 2004 film Kung Fu Hustle.