Miguel Llobet delivered flawless skill to future stars of classical guitar worldwide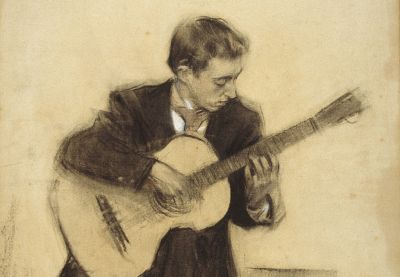 Miguel Llobet by Ramon Casas
Miguel Llobet
was a Spanish guitar player, teacher, and composer whose contribution to the development of both
classical guitar
techniques and the repertoire was associated with the flourishing of the instrument at the beginning of the 20th century.
One of Llobet's music teachers was the famous guitar innovator and inventor of the footstool
Francisco Tárrega
. Touring around the world Llobet popularized the classical guitar inspiring numerous followers including maestro 
Andrés Segovia
. While the first gramophone guitar recording was done by
Agustín Barrios Mangoré
, Llobet made the first historical record of a classical guitar on electric recording equipment.
Miguel Llobet Solés was born in 1878 in Barcelona and raised in a relatively artistic environment, with his father being a gilder and painter of religious images. Though Llobet turned to the guitar at the relatively late age of 11, he had studied both piano and violin from his early childhood. At the same time, he was also trained as a painter in which he showed considerable talent, continuing to paint throughout his life.
In 1892 Llobet was presented to
Francisco Tárrega
, who accepted him as a student at the Conservatory in Barcelona. Among his fellow students were gifted cellists
Pablo Casals
and Gaspar Cassadó.
Portrait of Llobet dated 1916
: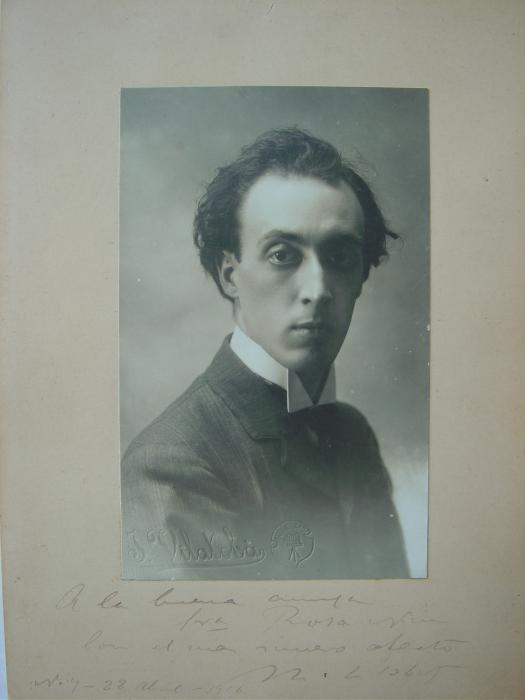 Having completed his studies in 1901, Llobet successfully toured in Spain until his move to Paris in 1904 where he was introduced by his countryman
Isaac Albéniz
to the music scene of the French capital. 
Having friendships with many composers, including
Claude Debussy
, Llobet began to add his own compositions into the concert repertoire during frequent European tours. Even though the vast majority of works that Llobet composed for guitar are based on Catalan folk songs, he was better known for his virtuosity rather than compositions
Listen to David Russell performing El testament d'Amelia by Llobet:
Llobet embarked on his first world tour in 1910 and, over the years, successfully played in Chile, Brazil, United States, and especially in Argentina. The beginning of World War I found him on tour in Germany, causing him to flee to Spain where he met his future pupil Andres Segovia a year later. 
Segovia himself always recognized Llobet's great influence on his own life and music, even setting out on a dramatic voyage to the United States with pianist 
Enrique Granados
​to perform Llobet's guitar transcriptions of Granados' music.
Listen to Andres Segovia performing El Mestre by Llobet:
After the war, Llobet resumed touring Europe, although in the 1920s he spent more time overseas, especially in Argentina where he taught a lot. In addition to Segovia, Llobet had many students in various countries, including Domingo Prat, Luise Walker, Graciano Tarragó, Eduardo Sáinz de la Maza, José Rey de la Torre, and María Luisa Anido.
María Luisa Anido and Llobet
: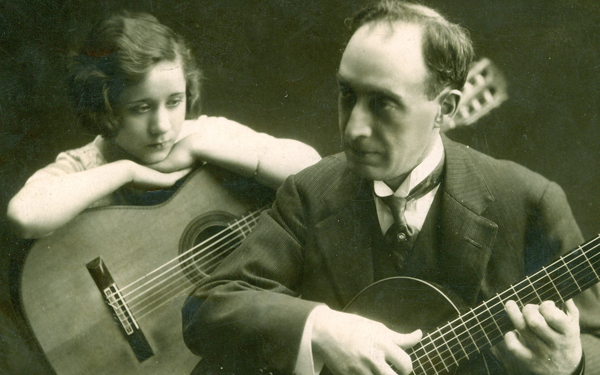 Llobet also participated in the first steps of the emerging industry of sound recording. Dissatisfied with the first attempt to record on acoustic equipment in 1910, he returned to this project when an electric microphone was invented. Thanks to his first historical recordings of classical guitar made in 1925 and 1929 on electrical equipment, we now have a vivid idea of his incredible talent.
Listen to Llobet playing Allegro Moderato by Napoleon Coste:
In the 1930s Llobet gave very few concerts as the nomadic life began to tire him. In the end, he settled in Barcelona where he devoted himself to teaching music. According to musicologist Jaume Pahissa who was Llobet's close friend, the beginning of the civil war in Spain was a strong psychological stroke for the maestro. He died in 1938.
Guitar made by Antonio de Torres played by Miguel Llobet
: