Matteo Carcassi's guitar etudes of early Romanticism are still relevant for teaching classical guitar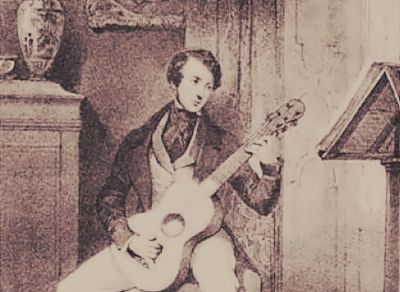 Matteo Carcassi
Matteo Carcassi
was an
Italian
guitar composer whose creative period coincided with the expansion of classical music across the European continent, marking the beginning of the 
Romantic era
. In those years, music that was far from complex held the public's attention as many people used simple etudes to learn musical instruments in order to participate in amateur ensembles.
Like many guitarists of
Romanticism
, Matteo Carcassi sought to publish his set of etudes which he released together with his guitar method, but it's the etudes in particular that have grown in esteem and are now revered by modern classical guitarists for its blend of technical skills and enchanting romantic harmonies.
In 1836, Matteo Carcassi published his three-volume Methode complete containing "profound knowledge of all the resources of this instrument" and supplementing the edition with 80 self-composed pieces. Following this, the composer released his glorious 25 Studies—a set of etudes for the classical guitar which serves as a bridge between the elementary and advanced stages of the discipline.
Listen to Matteo Carcassi's Etude No. 22 op. 60 Allegretto performed by Lucio Matarazzo:
Many of Matteo Carcassi's works feature his guitar interpretations of famous operatic pieces which, together with arrangements of popular songs, diversified his repertoire during concert tours in
Germany
,
England
, and
France
. For modern guitarists, the most interesting Matteo Carcassi work is probably his
6 caprices
which showcase emotion and skill but are not as complex as
guitar caprices of Luigi Legnani imbued with famous Paganini's works
.
Listen to Matteo Carcassi's Caprice No. 4 op. 26 Allegro performed by Lucio Matarazzo:
It is believed that Matteo Carcassi completed his concert activity in the 1840s, apparently due to the widespread declining interest to guitar music against the rapidly growing popularity of the
piano
which became a symbol of Romanticism itself.