Guitar virtuoso Napoléon Coste suffered from acute piano phobia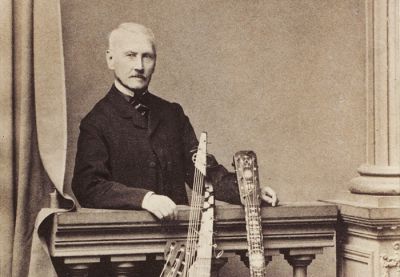 Napoléon Coste
The creative life of the brilliant French guitarist and composer
Napoléon Coste
 happened to blossom during the
Romantic era
, the period which famously brought the piano in every home rendering the guitar almost obsolete. Being one of the very few artists who had retained an interest in guitar, Coste's output formed a kind of link between the old and new era of
Classical guitar
.
Coste was a pupil and friend of the great composer 
Fernando Sor
, a man whom musicologists deservedly named
the Beethoven of the guitar
. But it was actually Coste who polished Sor's classical period technique by enriching it with the Romantic spirit. A variety of different styles can be felt in his compositions, in which French elements alternate with Italian, German and Spanish influences.
Napoléon Coste was born in 1805 as the first and only son of a retired officer of the Napoleonic army who was chosen mayor of Amondans–the small village in the rural countryside by the river Loue. It seems that Coste's first music teacher was his mother who reportedly played the guitar quite well.
Coste's quiet rural life was interrupted due to his father's military career resuming which resulted in the family's constant change of location making it hard to track the events of his younger years. Finally, Coste emerged and settled in Paris in 1829. Here at the age of 24, he studied under Fernando Sor and quickly established himself as the leading French virtuoso guitarist.
Listen to Miguel Llobet playing Coste's Etude 23 from Opus 38:
Coste's talent was revealed when the Romantic movement gained strength, greatly reducing the public's interest in guitar music, thus lowering the competition. Despite his brilliant live performances which provided him standing ovations, he still had to often self-publish out of his own pocket while making his living as a civil servant and dabbling in other musical activities.
Perhaps the weakened public interest in guitar music caused the virtuoso to develop a certain antipathy towards the piano—the main symbol of the Romantic era. At first, he responded quite tolerantly to this instrument:
"I do not deny that the piano is a tremendously powerful instrument on which some admirable music is played. The power pianists have is mighty. They play thousands of notes at a dizzying speed."
Whereas later he compared the obsession for the piano with an epidemic:
"It is a horrible epidemic. Since one doesn't need a musical organization to play the piano, anyone can do so, either well or poorly, leading to this endless craze."
Finally, fueled by the public's neglect of the guitar music, Сoste acquired something similar to a piano phobia:
"In every house, you hear this atrocious instrument being clanked on from the basement to the attic. In the building we live in there are only three of them, and we are quite fortunate that they are seldom played, but one hears a lot of them in the distance in the neighborhood."
Throughout his life, Coste published plenty of his own guitar pieces and also wrote a fair amount of music for oboe, usually accompanied by guitar. Furthermore, he kept the music Fernando Sor in circulation, having republished many of Sor's compositions as well as his book on the guitar method.
Watch Aniello Desiderio play Coste's fantasia Le Depart:
As a recognized musician, Coste had contacts with famous luthiers of his time, leaving a significant impact on the evolution of the instrument. His large collection of guitars further proved his special fondness for playing the seven-string instrument.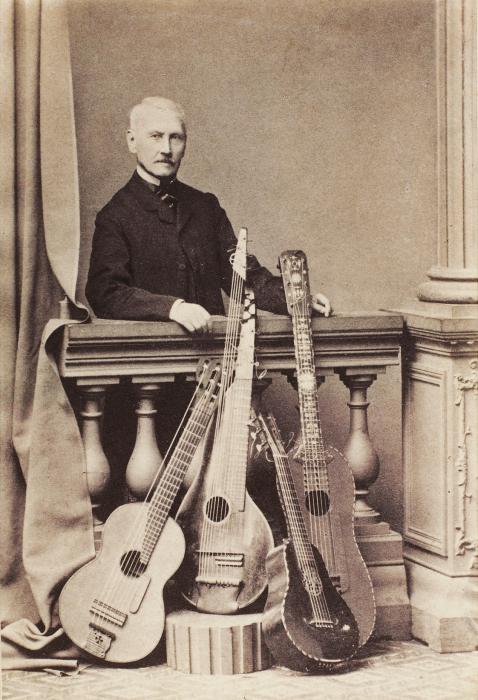 Coste also took part in the French early music revival, making transcriptions for modern guitar of Baroque pieces written in tablature.
He died in 1883 at the age of 77.