The guitar caprices of Luigi Legnani imbued with famous Paganini works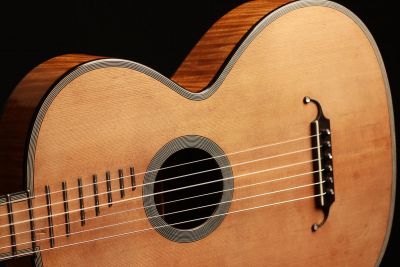 Luigi Legnani Guitar Model 1827 by René Lacôte
Luigi Legnani
was a
guitar
composer whose most active years coincided with the rise of the 
Romantic period
 which was characterized by the waning popularity of guitar music. Even as the attention of both listeners and chamber music performers switched to the piano that would become the main symbol of Romanticism, Legnani continued to develop guitar music and held the instrument as his centerpiece.
As a musician, Luigi Legnani mastered various stringed instruments but found the greatest achievement as an exceptionally skilled performer of guitar music and operatic singing. Of all his compositions, the most popular are
36 Caprices for the guitar
which were probably inspired by the famous violin caprices of maestro
Paganini
 with whom Legnani had friendly relations.
Despite the fact that the 
capriccio
was known as a
genre
of vocal music since the late
Renaissance
, there is no fine definition for this form of art as far as the music theory is concerned. The essence of the term was most accurately described by Antoine Furetière, who in his 1690
Dictionnaire universel
defined
caprice
as "a work in which the power of imagination takes precedence over simply following the rules of art."
Written in all the major and minor keys, Luigi Legnani's guitar capriccios only confirm this vague definition by demonstrating a wide variety of compositional methods, musical forms, and performing techniques. In his capriccios, the composer most often employed the compound ternary form in which the middle section, called the trio, is designed to contrast with the opening part, while the repetition of the opening section at the end of the piece creates completeness of the whole form.
In Caprice for guitar No. 15 in B minor, the opening section is repeated twice and states a simple melody that develops against the background of staccato chords. The trio is also played twice and contains high-speed passages with bass accompaniment, while the very short final part associated with the opening section concisely finishes the piece.
Listen to Luigi Legnani's Caprice for Guitar No. 15 in B Minor performed by Eric Gautier:
Curiously, the virtuoso violinist Paganini was also a good guitarist, though he preferred to play guitar in exclusively intimate settings rather than public concerts. There is evidence that Legnani and Paganini made attempts to perform together as a guitar duo but these concerts were canceled for unclear reasons.
Listen to Eric Gautier perform Legnani's Caprice for guitar No. 36 in E Major that opens with sparkling passages:
Luigi Legnani's contribution to the guitar repertoire exceeds 250 pieces, including fantasies, potpourris, capriccios, and variations on familiar operatic themes. He is also known for his work on a new guitar design developed by him in collaboration with renowned luthiers of the time, namely Johann Georg Stauffer and
Pierre René Lacôte
.
1827 Luigi Legnani's Guitar Model by René Lacôte
: