Miroirs: Ravel's piano suite that put his avant-garde friends to work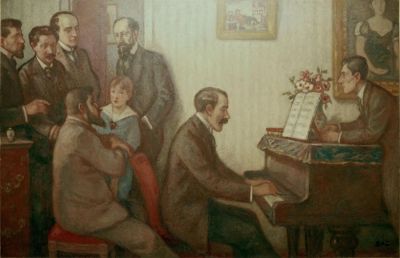 Godebski Reunion of Musicians by Georges d'Espagnat. Schmitt, De Severac, Calvocoressi, Godebski & son, Roussel, Vines (at piano), Ravel.
Miroirs
or
Mirrors
is an essential piano suite by the French impressionist
Maurice Ravel
, each movement of which is dedicated to five of his fellow
Les Apaches
members—a creative group founded in Paris in the early
20th century
. Consisting of about twenty musicians, writers, and avant-garde artists, the group aimed to create a platform where the members could perform and show their new works or ideas, as well as discuss contemporary artistic interests and form collaborations.
At the time, the term 'Les Apaches' was widely used by the media as an epithet for street gangs and was jokingly coined for a union of artists to describe their highly modernist output.
The first movement of the
Miroirs
suite—entitled
Noctuelles
or
Moths
—was dedicated to Ravel's lifelong friend
Léon-Paul Fargue
, a Symbolist poet whose work undoubtedly served as a constant source of inspiration for Ravel.
Listen to Maurice Ravel perform his Noctuelles from Miroirs:
The
Oiseaux tristes
, or
Sad Birds
, was designed to highlight the incredible performing technique of Ricardo Viñes, the eminent pianist and teacher who premiered Impressionist works of Ravel,
Debussy
,
Satie
, and
Albéniz
.
Listen to Maurice Ravel perform his Oiseaux tristes from Miroirs:
Une barque sur l'océan
, or
A Boat on the Ocean
, was intended for the artist
Paul Sordes
 who owned the studio where the first meeting of Les Apaches had taken place. The group used his Montmartre house for regular gatherings on Saturdays until they were forced to change location due to neighbour complaints concerning their extra noisy parties.
Alborada del gracioso
, or
The Jester's Aubade
, was meant for
Michel-Dimitri Calvocoressi
, an influential music writer, critic, and promoter of many music innovators including
Mussorgsky
. The term
aubade
means a love song performed in the morning as opposed to a
serenade
meant to be sung in the evening.
Listen to Ravel's Alborada del gracioso from Miroirs performed by Sviatoslav Richter:
La vallée des cloches
, or
The Valley of Bells
, was written for Ravel's student
Maurice Delage
, a composer known for his passion for
Indian classical music
that caught his fancy during his travels in Hindustan. It was his home that became a haven for Les Apaches after their friction with neighbors at Montmartre over their rowdy gatherings.
Listen to Maurice Ravel perform his La vallée des cloches from Miroirs:
Ravel completed his Miroirs piano suite in 1904, a year after the beginning of Les Apaches' regular meetings. The group lasted until the outbreak of World War I which stilted the alternative arts for years.