Neapolitan lutier died in terrible plague that destroyed the kingdom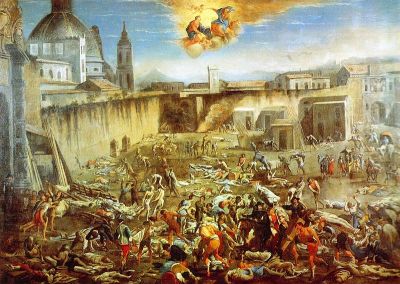 The Marketplace in Naples During the Plague of 1656 by Micco Spadaro
Composer:
Andrea Falconieri
The worst disaster to strike the kingdom and city of Naples in the 1600s was the plague of 1656. The outbreak of the disease occurred in January when a Spanish soldier who had arrived from Sardinia was admitted to the Annunziata hospital. 
The alarm was sounded by Dr. Giuseppe Bozzutto, who first diagnosed the symptoms. His promptness was not appreciated by the viceroy's government which decided to imprison the doctor for having spread the news. The plague, however, quickly spread its own brand of news. When bodies started piling up, when provisions ran low, when people started fleeing the city, the government was forced to admit the outbreak. That was in May. 
By August, the plague had run its course. It had killed about half the city's 300,000 inhabitants and at least that many again in the rest of the kingdom where it had spread. Micco Spadaro was in the city during the outbreak to paint a soul-chilling scene of the Mercatello, the square that is now Piazza Dante. 
The city of Naples would take almost two centuries to climb back to its pre-plague population.
It is well known that in this terrible tragedy the Neapolitan composer and lutenist Andrea Falconieri died. He is generally regarded as a second-tier figure today, though his contribution to the realm of secular song and instrumental music was important. 
Listen to Falconieri's Passacaglia performed by Jordi Savall and Hesperion XXI:
Falconieri was born in either 1585 or 1586 in Naples. Little is known for certain about his early years, though there is evidence he earned a living as a lutenist in Parma beginning in 1604, by which time he was probably dabbling in composition, though his earliest surviving works come from around 1610. 
Falconieri seems to have briefly held two posts, one at the Florence Court and later on one in Rome around 1620. Having married, either in Rome or Modena, he spent the next seven years or so traveling about France and Spain.
In 1628 he returned to Italy, appearing at the wedding of Princess Margherita de Medici and the Duke of Parma. He soon turned to teach, taking a post at the Santa Brigida Convent in Genoa in 1632. He probably left Genoa after losing favor with the Mother Superior, who complained his music was unsettling to the nuns. 
From 1639 he served as a lutenist at the Naples royal chapel and was elevated to maestro di cappella a few years later. 
Falconieri died in 1656, a victim of the plague.