150 composers contributed to La Folia through the centuries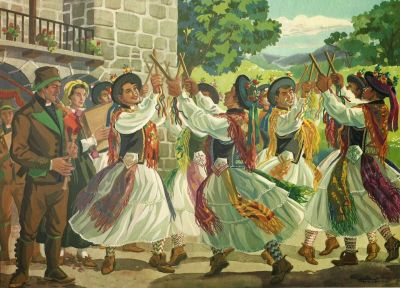 La Folia is one of the most revered melodies in music history. Originating as a late fifteenth-century Portuguese dance with a designated chord progression, the theme became highly popular during the Renaissance and Baroque periods. 
The name "folia" refers to the madness or empty-headedness of the performers. One source describes it as very noisy, with the performers carrying, on their shoulders, young men dressed as women. 
Several sources report that Jean-Baptiste Lully was the first composer to formalize the standard chord progression and melodic line. Others note that the chord progression appeared in musical sources almost a century before the first documented use of the "folia" name. 
Although folia variations trend continued on into the classical era, its popularity waned over the course of the 19th century. Despite that, 
Franz Liszt
and
Sergei Rachmaninov
followed the tradition.
Listen to Vivaldi's
Trio sonata for two violins and basso continuo
 (Variations on La Folia) performed by
Jordi Savall
 with Hesperion XXI: