Peggy Lee's sensual version of Fever replaced the original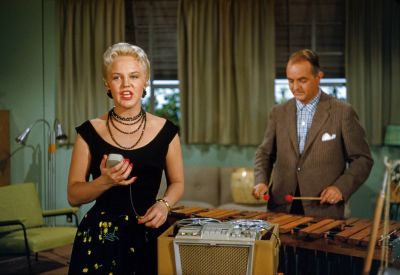 Fever, one of the biggest songs to define a generation, is a passionate love proclamation that spoke to listeners of all ages and backgrounds.
It was originally recorded in 1956 by the popular rhythm and blues singer Little Willie John who didn't even want to record this at first because he didn't particularly like the finger snapping in the arrangement. Even though, his songs have been covered by many of his successors, including The Beatles whose cover of Leave My Kitten Alone surfaced decades later on the compilation of the band's forgotten sessions. 
There is some controversy over the real authorship of Fever, but according to Otis Blackwell, it was he who wrote it in collaboration with Eddie Cooley. Blackwell, who was under the contract with RCA at the time, copyrighted the song under the name of his stepfather John Davenport instead of his own to ensure that the royalties from the sells would go to him instead of RCA.
In 1958, Peggy Lee recorded a cover version of the song which saw significant changes to the lyrics which Lee rewrote herself. Her cover featured references to famous fictional love stories, such as Romeo and Juliet, and is now generally thought of as the standard version which influenced most covers by other notable artists such as Elvis, Tom Jones and Madonna. 
Lee's cover, most likely arranged by the singer herself, is a slow-tempo version accompanied only by bass and a very limited drum section, earning its iconic status by the sensual stripped down feel: