Peter Grimes outdoor premiere at Benjamin Britten's home beach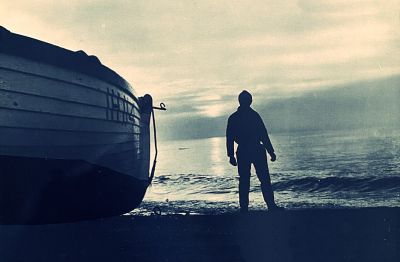 Peter Grimes LP
Despite reports that Benjamin Britten paced nervously at the back of the Sadler's Wells Theatre when Peter Grimes first performed, this work turned out to be the greatest English opera ever written. It's a story of a lonely fisherman who was both cantankerous and misunderstood.
Having left war-struck Britain in 1939, Britten stumbled upon George Crabbe's poem The Borough in a secondhand bookshop in Los Angeles, and started transforming it into his second opera. By way of contrast to the vocal recitals, four orchestral interludes pepper the score which led Britten to the decision that these interludes should be released as stand-alone.
The instrumental pieces have arguably become more popular than the opera itself as the Four Sea Interludes cycle that contains Dawn, Sunday Morning, Moonlight, and finally the Storm.
Listen to Storm from the Four Sea Interludes performed by André Previn with London Symphony Orchestra:
After the war, Britten found his new home in Aldeburgh where he remained for the rest of his life, and where, ironically, Peter Grimes would never be staged until now, mainly due to the town—as well as the whole county of Suffolk—lacking a venue large enough to accommodate a performance.
So in the year of Britten's centenary, the centerpiece of the Aldeburgh festival is the production of Grimes directed by Tim Albery on a set designed by Leslie Travers that consists of dilapidated fishing boats and timbers built right at the water's edge on the town's pebble beach.
The North Sea provides the backdrop to the performance while the audience can enjoy it from the sitting places improvised from various sea-themed paraphernalia.