Rhinestone Cowboy: origins of Glen Campbell's best-known track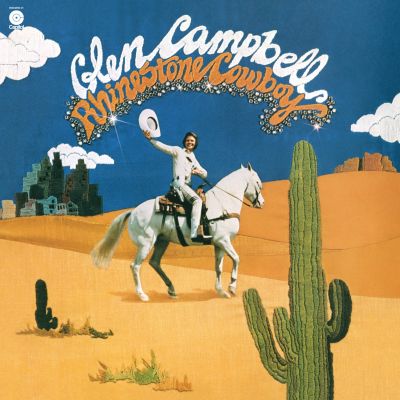 Glen Campbell's Rhinestone Cowboy LP cover
Rhinestone Cowboy
is a notable country track that hit the tops of global charts in the
1970s
, extending beyond the confines of its own genre. The song was written by American songwriter
Larry Weiss
for his only 1974 album
Black & Blue Suite
and was later released as a single which never received much attention.
In 1975,
Rhinestone Cowboy
was covered by
Glen Campbell
—a renowned country singer and highly skilled guitarist who worked as a session musician with artists such as
Frank Sinatra
and Elvis Presley. Shortly after its release, Campbell's version topped the Billboard Hot 100 becoming his best-known and largest-selling song.
Over the following decades,
Rhinestone Cowboy
remained a fixture in the mainstream sustained by a variety of covers, among which recordings by
Loretta Lynn
, Cher,
Radiohead
, and Bruce Springsteen deserve special attention.
Listen to Rhinestone Cowboy (Remastered) by Glen Campbell:
Compositionally, Rhinestone Cowboy showcases an extended harmonic structure and follows the canons of tonal music theory namely the
Ionian mode
. In the harmonic analysis of the verses chord chains, the scale degrees (denoted with Roman numerals) show the following progressions in the key of C major:
C–G–F–Dm–F–C or I–V–IV–ii–IV–I;
C–G–F–C–F–

D

→G or I–V–IV–I–IV–

V/V

→V.
The first progression ends with the musical turnaround known as a plagal cadence sometimes used in classical works to close musical phrases. The second progression reveals a classic case of the
tonicization
of the
fifth
scale degree, utilized here with the 
D 
secondary chord that temporarily switches the tonal center to G major.
The chorus is accompanied by progressions with all the three primary major chords of the Ionian mode, a rather common technique in pop music:
F–C–G–F–C or IV–I–V–IV–I;
C–G–C–G or I–V–I–V;
F–C–G–F–C or IV–I–V–IV–I;
C–G–F or I–V–IV.
​Discover more songs composed in Ionian major mode and check out their harmonic analysis in the following articles: