The rise of the Crimson King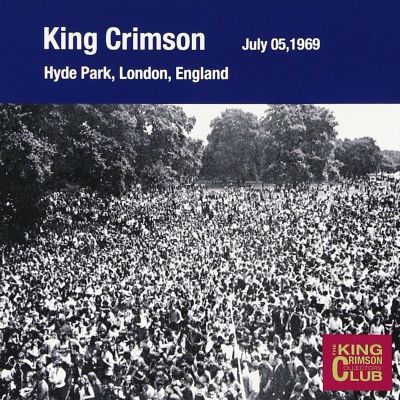 King Crimson LP
The Stones in the Park generally refers to a free outdoor festival held in Hyde Park on 5 July 1969 that was headlined by The Rolling Stones.
It really wasn't all about the Stones, though: King Crimson, Roy Harper and Alexis Korner were all featured in the seminal cultural event of that British summer.
The crowds of thousands, estimated at about half a million, flocked to the bizarre new sound in bright disparate clusters, be it clinging in the tree branches, almost bird-like, or finding vantage points on top of bins or their friends' shoulders.
King Crimson nearly stole the show from the headliners, playing songs from their forthcoming album In the Court of the Crimson King.
The band's manager, David Enthoven, remembers:
"It was a lovely sunny day, and it launched us. We overran, and there was a lot of waving at me by the Stones' stage manager. But we had to finish, and we did, with me crouching under the stage sounding an air-raid siren (which everyone in the crowd remembers, without knowing exactly why or whence it came)." 
Drummer Michael Giles said: 
"Hyde Park was a special and prestigious event for us. It was the first time we had played to tens of thousands of people in the open air. Being almost unknown, we were free to walk through the crowds unobserved."
A gig that is not only an exceptional event of the sixties but one that proclaimed Crimson's climb on the international level. If you think about the song-list at Hyde Park that day, you get a feel why the now historically pivotal 21st Century Schizoid Man was so grave and shocking. This was a band playing far beyond their years. Nobody else sounded like it. 
Listen to
21st Century Schizoid Man
live broadcast on
1969 BBC Sessions on
SoundCloud
.