The rock'n'roll wave overshadowed Lazybones writer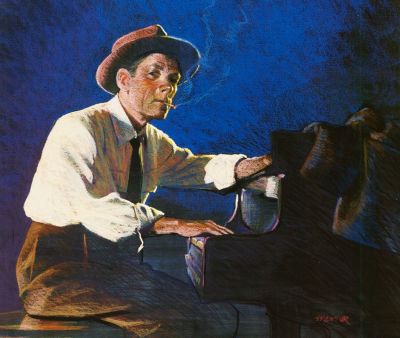 Hoagy Carmichael LP
Hoagy Carmichael was an American composer, singer, pianist, and actor who wrote quite a few songs that ended up becoming top hits of American pop music of his time.
One of the greatest entertainers of his day, Hoagy possessed versatility and was capable of delivering catchy songs with an added edge of warmhearted humor. 
During his stay in New York, Carmichael collaborated with the lyricist Johnny Mercer on several songs, with Lazybones being their first hit in 1933. Inspiration for the song came one afternoon when Mercer decided to pay Carmichael a visit only to discover him napping in his New York apartment.
Later, Carmichael moved to Hollywood where he composed songs for films and found additional success as a character actor, often playing the role of a philosophical and world-weary piano player.
The golden age of American pop song waned during the dawn of rock'n'roll, but Carmichael continued to write compositions, although most of his later songs were never recorded. 
In this 1941 short, Hoagy Carmichael plays his song Lazybones with some novelty dance from Dorothy Dandridge and Peter Ray: