The sad beauty of slow air in Archibald MacDonald of Keppoch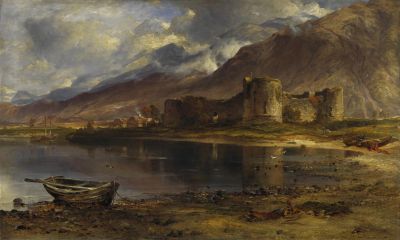 The Ruins of Inverlochy Castle by Horatio McCulloch
'Slow air' refers to the type of the Irish traditional music, first brought to a wider audience by the publishings of the Scottish fiddler, collector and composer Captain Simon Fraser.
His 1816 work The Airs and Melodies Peculiar to the Highlands of Scotland and the Isles with many songs collected from all over the isles, including Archibald MacDonald of Keppoch.
The MacDonalds of Keppoch were an influential branch of Clan MacDonald, whose support of the Stewart monarchs in the 17th century lead to their active participation in the Jacobite risings in the 18th century. As a result of that support, they are still currently without an officially recognized clan chief. 
Here is the tune performed by
Johnny Cunningham
who was a Scottish folk musician and a founding member of the renowned traditional band
Silly Wizard
. Throughout his career, Cunningham was also a fiddler, composer, and producer.