Scottish fiddle tradition elevated by guitar ornamentation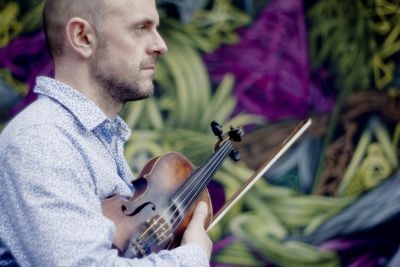 Duncan Chisholm
Duncan Chisholm is a contemporary Scottish fiddle composer whose interpretations of traditional Highland music are striking with their exceptional authenticity. It is the foggy synergy of his homeland's nature and music that inspires and drives his work.
Chisholm took up the fiddle at eight years of age when he started getting lessons from the great Donald Riddell, a fervent supporter of Scottish fiddle music tradition. Being fortunate to have started this career so early, Chisholm believes that children of all ages should be able to get the chance to express themselves musically.
His creative force lies in writing songs to allow listeners to escape the mundane and enjoy a few moments of peace:
"I understand now the ability of music to lift the soul and to connect with people. For me it is a cathartic experience, I can share my emotions and feel better as a result. It is a true representation of who I am and where I come from and to be able to express myself in such a way means the world to me."
Chisholm's Farewell to Uist is an airy piece arranged for guitar and violin: