Shaman's Blues: quintessential The Doors song refined their most controversial album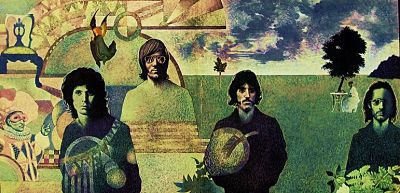 The Soft Parade 50th Anniversary Edition
Shaman's Blues
was written by
Jim Morrison
for
The Soft Parade
,
The Doors
' fourth studio album released in the summer of 1969. The track is arranged in the familiar style of the band's previous works and immediately sets The Doors' signature mood, drawing a stark contrast to the other songs on the album that veer into the more experimental soundscape.
Indeed,
The Soft Parade
sounds detached from the band's main body of work and, for the first time, the tracks presented here are credited separately at the request of Morrison, who refused to sing some of
Krieger
's lyrics.
There is speculation that Morrison did not welcome modernist harmonies in Krieger's songs, founding them difficult to perform, though he was also not happy with the general concept for the symphonic arrangements offered by the band's producer Paul A. Rothchild. All of this led to Morrison limiting his involvement in the recording process, and the album itself raised a storm of disparagement from critics and fans who believed that The Doors were sliding into the pop genre.
Listen to Shaman's Blues by The Doors:
The song's title is as obvious as it is misleading, given that 
Shaman's Blues
does not belong to the
blues genre
as it does not contain any blues harmony and is entirely written using the
natural minor
mode which is a frequent fixture in the band's music. The entire track is built on a two-chord riff
Gm—F—Gm
that creates a trance-like groove with enough space for Morrison's mysterious lyrics to take shape. Each section features only a pair of lines written in 
subdominant harmony
represented by the
Cm
chord.
It is likely that Morrison originally intended to write Shaman's Blues in the blues genre as evident from the structure of the chorus that builds on a four-line blues stanza where the second line is a varied repetition of the first line while the last line sums up the meaning of the entire stanza:
There will never be another one like you
There will never be another one who can do the things you do
Will you give another chance? Will you try, little try?
Please stop and you remember we were together, anyway, all right
Explore how The Doors uses musical modes:
Discover more songs composed in Aeolian minor mode and check out their harmonic analysis in the following articles: