Locomotive Breath: fine groove born from Jethro Tull's studio session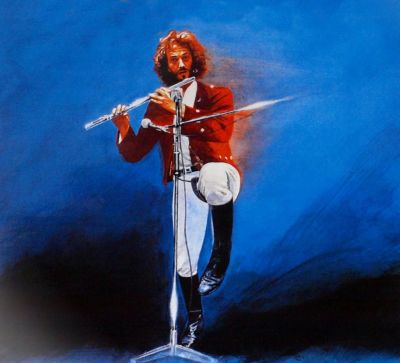 Jethro Tull LP cover
Locomotive Breath
is one of the more popular songs written by the British prog-rock band
Jethro Tull
, first released on their iconic 1971 album
Aqualung
. According to the band leader
Ian Anderson
, the track is in his top ten Jethro Tull's favorites and this is why it is often performed live, usually at the very end of a concert.
Ian Anderson has repeatedly stated that the song expresses his concern for the planet's fast-growing population, which has tripled during his lifetime, although there is not a single hint of this subject in the lyrics.
It is noteworthy that Locomotive Breath in its present form was a product of a recording session. Initially, the band couldn't form any preliminary idea of how to imitate the rhythm and sounds that a locomotive makes at full speed. So the song was recorded by overdubbing while the basic arrangement elements for creating the desired groove were suggested and played by Ian Anderson himself. In addition to the usual flute and vocals, he created the rhythm on the bass drum and hi-hat, played the distinct riff on the electric guitar, and then recorded the acoustic guitar part. Then the musicians made more overdubs and recorded the outstanding piano intro that goes on for longer than a minute, making the song unfit for radio.
Listen to Locomotive Breath by Jethro Tull:
The harmonic progression of
Locomotive Breath
is well-developed and fully in line with theoretical canons. The song is written in the
natural minor mode
but exhibits a clear major character since all chords performed here are major chords except for the tonic E minor chord.
Discover more songs composed in Aeolian minor mode and check out their harmonic analysis in the following articles: