The Snows They Melt the Soonest survives through folk tradition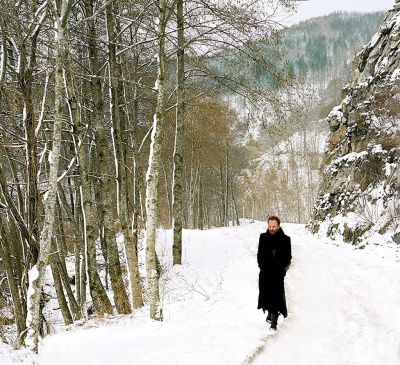 If on a Winter's Night LP
The Snows They Melt the Soonest is a British folk song dating back to at least as far as 1821. It was mentioned, along with the lyrics, in Blackwood's Magazine of that year.
The melody was printed in Bruce and Stokoe's Northumbrian Minstrelsy in 1882, which also mentioned its publication in 1821 and noted that the contributor of the song was Thomas Doubleday–an English politician, songwriter, and folk music collector.
In the '60s, the song was popularized by Anne Briggs, an incredibly talented singer of traditional English folk music and owner of a breathtakingly beautiful, pure voice. What makes her story so odd is that Briggs' entire recorded output is made up of about 30 songs. She stopped singing at the age of 27, supposedly because she hated the sound of her recorded voice. 
Listen to The Snows They Melt the Soonest recorded by Anne Briggs in 1971:
The song was later learned by Scottish guitarist and folk singer Archie Fisher who passed it on to his friend Dick Gaughan. 
Gaughan steeped in the traditions of Celtic music and recorded it on his 1981 Handful of Earth album, the success of which further popularized the song:
Following years the song was performed and recorded by many popular artists, but the most famous transcription probably belongs to Sting:
It was released in 2009 on Sting's album If on a Winter's Night that in itself is a collection of Christmas and winter-themed folk songs, madrigals and religious hymns from past centuries.