Stylistic diversity of acoustic guitar duo Oka Vanga
Oka Vanga CD cover
Oka Vanga—a play on the name 'Okavango', a river delta in Botswana—is the band name for South African born Angela Meyer and William Cox.
Oka Vanga was born when Will and Angie met by chance at an open mic night in London in 2008. Whether it's singing, playing guitar, ukulele or mandolin, this diverse duo presents a strong set of original songs and well-known tunes guaranteed to win the hearts and minds of any audience.
Their sound is a melting pot of influences, and they describe themselves as acoustic folk-world music. Angela and Will play steel string guitars but use very different techniques. These differences are mirrored in their musical tastes, which stretch from Angela's classical and flamenco styles to Will's heavy rock and blues.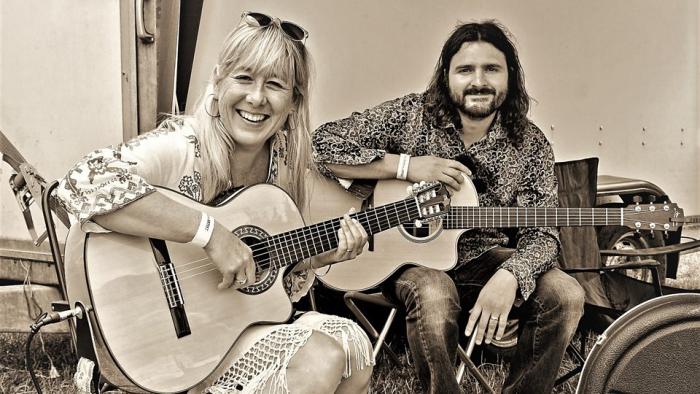 Their much anticipated second album Dance of the Copper Trail has been hailed as their best work yet. Released in 2017, it is described as profound, concise and meticulous with Angela's lyrics displaying a talent for conveying emotion and joy.
Songs of faith and superstition, love and loss, death and everlasting hope are all seamlessly woven together and showcase every manner of musical influences. 
Listen to The Wicken Tree from the album Dance Of The Copper Trail: