Classical Guitar
Swiss-made prelude gifted to Segovia was never played by him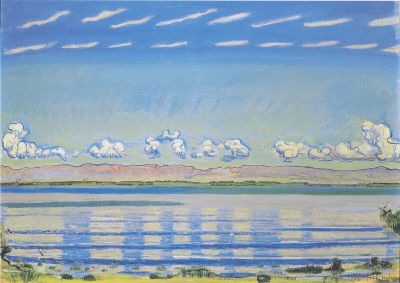 Rhythmische Landschaft am Genfersee by Ferdinand Hodler
Andrés Segovia
had one of the longest and most distinguished careers in the history of Western music.
In his lifetime, Segovia taught himself guitar, revolutionized the technique and elevated the folk instrument to the highest levels of the international concert scene. As a musician, he has come to be recognized as one of the most refined and profound of his time. 
"My life has been an ascending line, slowly, but ascending line. It came, everything came, but I was not to be distracted, not to answer another call. In that consists the miracle of my will, in persisting in the road I had taken. The rest was in the mysterious stars of my firmament."
He spent about fifty years giving concerts in almost every part of the world and was, at various times, a resident of Spain, the United States, Switzerland and Argentina. 
Since the best place to meet up with the admirers is after recitals, it is in this context that he met the Swiss composer, teacher and critic Aloÿs Fornerod who was very impressed with the talent of Segovia and decided to dedicate his only guitar work—the charming and sparkling Prelude—to the Spanish guitar maestro.
Unfortunately, Segovia did not play this prelude, but many of his followers perform this piece mimicking the technique of the great guitarist.
Ermanno Brignolo plays Aloÿs Fornerod
Prélude
:
SoundCloud
 link.
Here is piece performed by Rupert Boyd: