Things Lost In The Fire: Norwegian folk of Geirr Tveitt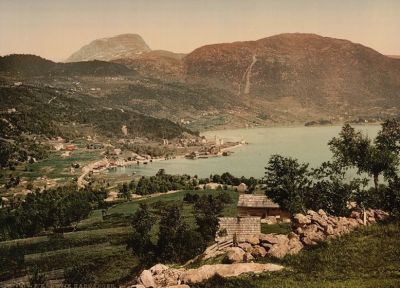 Hardangerfjord
The very mindful application of folk music to classical during the early 20th century became a global trend since every country or ethnic group was able to work with native composers. 
Norway, for instance, had Geirr Tveitt (1908–1981), a composer, pianist and teacher who sadly never earned the fame on the scale of other folkish composers such as Dvorak or Grieg. Even noble efforts to paint a clear picture of his life have proven difficult by reason of a fire that ravaged his home in 1970, turning his works and folk music collections into ash.
Tveitt grew up in the region of Norway known as Hardanger which isolated location had allowed the development of a unique musical culture. Tveitt was no child prodigy but discovered that he possessed musical talent nonetheless and learned to play both the violin and piano. And, after having been encouraged by Norwegian composer Christian Sinding, Tveitt decided to try his hand at writing music.

Tveitt studied composition in Leipzig Conservatory which had been the hub of European musical learning and culture for decades. To perfect his skills he continued studies in Paris where he was fortunate to get lessons from some of the greatest composers of the time: Arthur Honegger and Heitor Villa-Lobos. Later he even managed to enroll in the classes of
Nadia Boulanger
. 
In 1941, he was awarded a Norwegian state pension and a year later he took up residence in the Tveitt family farm in Hardanger, devoting himself mainly to composition, collection and transcription of the region's folk music. His best-known work One Hundred Folk Tunes (Hundred Hardingtonar) features a series of orchestral suites that rely mostly on folk music.
Listen to the Suite No. 1 from the One Hundred Folk Tunes performed by Bjarte Engeset with Royal Scottish National Orchestra:
Tveitt's sailing in life was not always smooth, with the final misfortune being the house fire to which he lost the bulk of some 300 of original works as well as his folk music collection that he had never published. The works would remain lost forever.