Three Little Fishies: origin of the cautionary children's song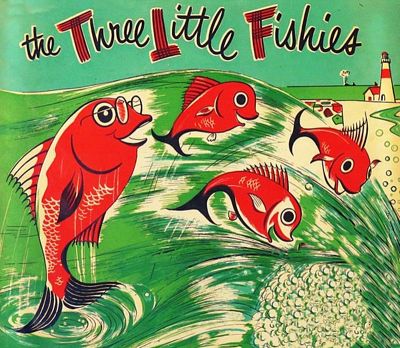 Three Little Fishies by Art Gentry
Three Little Fishies
is a well-known novelty song with cautionary tale lyrics that was first recorded by the
Hal Kemp Orchestra
and The Smoothies in 1939. Since then, the song has joined the ranks of other beloved children's stories having been regularly performed by artists of various genres including 
Glenn Miller
and
The Andrews Sisters
while also appearing in children's TV series such as
The Muppet Show
.
The song, composed of four verses and interspersed with a scat-singing chorus, tells the story of three little fishies sailing over the dam into the sea in spite of their mother's admonitions that they might get lost. Having had a lot of fun until the day is done, the fishies encounter a shark but manage to escape and cross the dam, returning home safely.
Originally, the song titled Fish Talk was written and performed by the vocal trio of Mary Elizabeth Bomar, Josephine Carringer, and Bernice Idins known as the University of Tennessee sorority sisters who adopted some lyrics from the popular counting rhyme Over in the Meadow.
In early 1939, the sisters taught the song to
Saxie Dowell
, the lead saxophonist and vocalist of the Hal Kemp Orchestra, after their joint concert in Knoxville. After writing a sumptuous jazz arrangement, Dowell and Hal Kemp brought in enough vocalists to sing all character parts from
Three Little Fishies
. Although their recording is very funny, another version released by
Kay Kyser
 that the same year would become a national hit.
Listen to Three Little Fishies by Kay Kyser:
Curiously, Dowell received a lawsuit from the sisters as he had not indicated their authorship in the first release and was subsequently forced to buy out the rights to the song.