Traditional maloya music meets French chanson in swaying songs of Maya Kamaty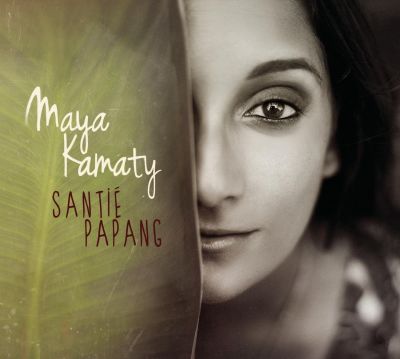 Maya Kamaty CD cover
Maya Kamaty is a new generation singer and songwriter from the Réunion island located in the Indian Ocean east of Madagascar. The geographical position of the island led to the emergence of a unique maloya music genre uniting the traditions of African and Indian music.
Historically, maloya songs were performed in Réunion Creole by oppressed sugar plantation workers, becoming a symbol of freedom which led to the total prohibition of this art by the French authorities. Organized in a call-response structure, the songs were accompanied by a musical bow and a variety of percussions, though now practically any instruments can be involved in arranging maloya music.
Since childhood, Maya Kamaty has been a backing vocalist in the Ziskakan band led by her father, one of the most significant maloya musicians of Réunion. After Maya left the island for her studies in France, her musical inclinations have been gradually maturing becoming enriched with European harmonies.
Upon her recent return home, Maya Kamaty started her own band for which she now writes lyrics in both Réunion Creole and French. To reflect this cultural sensibility, the band's musical style balances between French chanson and traditional maloya.
Listen to Pandiyé by Maya Kamaty:
To fill in the pauses between her vocal lines, Maya Kamaty often appears on stage with kayamba, a percussion instrument common to some islands of the Indian Ocean and the east coast of Africa. Similar in design to the washboard, kayamba is made from hollow stalks of reed or sugar cane filled with canna seeds which produce a sound very reminiscent of the ocean surf.