The true soul behind Elgar's Enigma Variations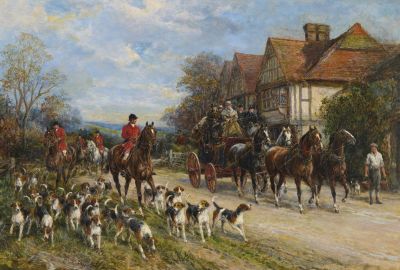 Heywood Hardy
Edward Elgar's Enigma Variations, originally titled Variations on an Original Theme, is famous for its mysterious name, especially among historians who are still unable to define what exactly was that Original theme about.
The work is comprised of 14 short tunes and was first premiered in London in 1899. The subjects of these pieces were described by Edward Elgar in a letter to his publisher and best friend August Jaeger:
"I have sketched a set of variations on an original theme: the Variations have amused me because I've labelled them with the nicknames of my particular friends".
According to Elgar, the true mystery was, in fact, that: 
"...through and over the whole set another larger theme 'goes' but is not played." 
The best known Enigma Variation is Nimrod, as identified by Elgar himself, dedicated to August Jaeger. The title is a play on words, with Jaeger being the German for hunter, and Nimrod the name of the mighty hunter mentioned in Genesis. August Jaeger was himself a musician and publisher who, more than anyone, supported Elgar through his frequent and severe periods of depression.
In Elgar's words: 
"The Variation . . . is the record of a long summer evening talk, when my friend discoursed eloquently on the slow movements of Beethoven, and said that no one could approach Beethoven at his best in this field, a view with which I cordially concurred." 
Here is the Nimrod variation played by Leonard Bernstein with the BBC Symphony Orchestra: