Zia Mohiuddin Dagar: the maestro of Dhrupad and Rudra Veena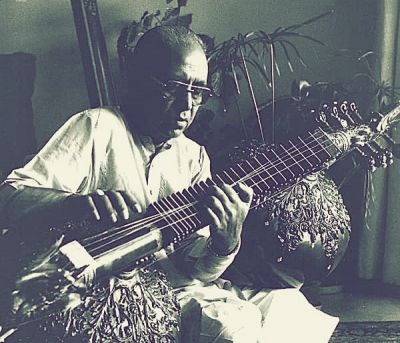 Zia Mohiuddin Dagar CD cover
Peace of music:
Chandrakauns raag
Zia Mohiuddin Dagar
—a distinguished Hindustani musician—was a master of the Dhrupad genre which dates back to the 15th century and is revered as one of the oldest forms of
Indian classical music
. Dhrupad is renowned for its spiritual essence and characterized by unhurried melodic progression, precise intonation, and a profound exploration of ragas.
Born in 1929 in Udaipur, Rajasthan, Zia Mohiuddin received rigorous training in vocals and the
Rudra veena
from his father, Ustad Ziauddin Khan Dagar. Despite the veena's traditional confinement to private settings, Zia Mohiuddin embraced it as his primary instrument, delivering his debut recital at the age of 16. He subsequently modified the veena into a larger bass instrument—now known as the
Dagar veena
—enhancing its suitability for solo performances.
Renowned for his deliberate elaboration of
ragas
, Zia Mohiuddin Dagar's recorded discography encompasses a wide array of mesmerizing performances, including notable albums like
Rudra Veena Recital
,
Raga Yaman
, and
Raag Malkauns
(Bombay 1968)
.
Listen to Chandrakauns raag by Zia Mohiuddin Dagar:
Chandrakauns raga distinguishes itself from Raag Malkauns and leaves a profound, lingering impact on the audience evoking a mood of restlessness and tension. This raga also finds its place in Tamil film songs such as Maalai Pozhuthin Mayakkathile from the movie Bhagyalakshmi and Unnai Yen Sandhithen from Idhaya Thamarai.