Abdullah Ibrahim created his African music of peace in exile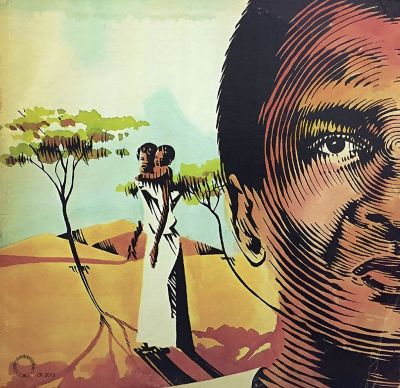 Abdullah Ibrahim LP
The works of South African pianist Abdullah Ibrahim, born Adolph Johannes Brand, fuse the melodic sounds of his homeland with improvisational jazz and technical proficiency of classical music.
He began to develop his own unique style at the very core of Cape Town where a great variety of cultures and colors meet and the line between modern and traditional is less defined.
In 1959, Ibrahim's revolutionary septetthe Jazz Epistles was formed, and the group recorded the first jazz album done entirely by South African Musicians. However, the band broke up shortly after, and later the apartheid government sentenced Ibrahim to exile.
Ibrahim left South Africa and temporarily settled in Zurich, working at the Africana Club. One fortunate night in 1963, his performance with the trio
Dollar Brand
was seen by
Duke Ellington
. Ellington was so impressed that he arranged a recording session for the band.
In 1974, during one of his return visits to South Africa, Ibrahim recorded his iconic Mannenberg piece which refers to the township of Manenberg in Cape Town, where many black and "Coloured" South Africans were sent after being forcibly evicted from their homes.
The song became an unofficial national anthem during the struggle against apartheid in the 70s and 80s:
In 1979 Ibrahim presented African Marketplace, his most colorful recording out of eight folk-like originals that pay tribute to his life growing up in South Africa.
Listen to African Marketplace's quintessential The Homecoming Song:
Only in 1990 was he able to return to South Africa permanently, but he still continued to divide his time between his birthplace and his adopted home in New York.
His 1999 album African Suite is a well-sequenced collection of previously recorded compositions for his old trio but rearranged for a 20-piece string orchestra.
Listen to Ibrahim's somber The Wedding: 
It is ironic, given the circumstances of his long exile from South Africa, that with his music the composer-pianist Abdullah Ibrahim paints an incredibly romantic, peaceful, almost pristine image of Africa. He evokes bustling market places and placid savannas, beaming children and wizened elders.
There are no traces of the butchery carried out by the state forces rooted in centuries of colonization and white oppression, or the larceny that pervades its economies, there is only love in Ibrahim's idealized continent of Africa.