Zawinul incited his electric piano to report the jazz weather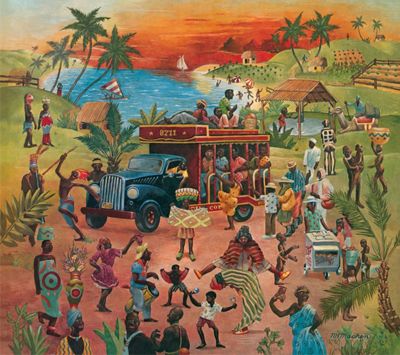 Weather Report's Black Market LP
European jazz pianist Joe Zawinul is best known for his founding the iconic band Weather Report which is highly associated with pioneering fusion, a genre born through refreshing outmoded jazz with the rising rock'n'roll music.
Born in Vienna—the heart of the classical music tradition—Zawinul received a comprehensive education at the Vienna Conservatory which allowed him to freely experiment in search of the new fresh jazz sound. Even before the invention of compact synthesizers, he was one of the first musicians to use electric pianos such as Fender Rhodes to bring modern palettes into the jazz mainstream.
Josef Erich Zawinul was born in 1932 in Vienna where he grew up in poor Erdberg district during the Nazi rule, suffering heavy bombings, famine, sometimes even having to bury fallen soldiers. He first showed his musical talent at the age of six by playing the accordion since the family had no piano in their small apartment. 
Realizing that Zawinul's abilities were well beyond the norm, his family sought out classical piano lessons which finally brought him to the Vienna Conservatory where he was enrolled for free lessons in clarinet, violin, and composition at the age of seven. 
Obsessed with jazz music, which was forbidden during the Nazi regime, Zawinul was pursuing the idea of moving to America to develop his creativity in the freest genre. Knowing his ambitions, friends once pranked him by arranging a fake phone call asking him to join Ella Fitzgerald. Ironically, the joke forced Zawinul to later ignore a similar but real call from trumpeter Clark Terry.
In 1958, Zawinul got his chance when he won a scholarship to the Berklee College of Music in Boston, but after a few weeks in class, he left college to join
Maynard Ferguson
's band. That was a starting point of his fantastic career, playing with leading jazz musicians including saxophonist
Cannonball Adderley
. Zawinul's contribution to Adderley's band was marked as one of the first uses of an electric piano on a jazz recording.
Zawinul also received a real intriguing offer from Ella Fitzgerald's promoter; however, he refused a salary of $1,400 a week in favor of joining 
Miles Davis
' experiments in fusing rock and jazz which paid considerably less. He always recalled his meetings with
Duke Ellington
, who was Zawinul's childhood musical hero, with special delight.
Having received the complete recognition of his talent as a pianist and composer, Zawinul nonetheless decided to forge a more individual direction since he was troubled by the idea that he was simply imitating the styles of other musicians rather than going as a jazz creator. Thus, in 1970, Zawinul founded Weather Report with virtuoso saxophonist Wayne Shorter who also played with Miles Davis.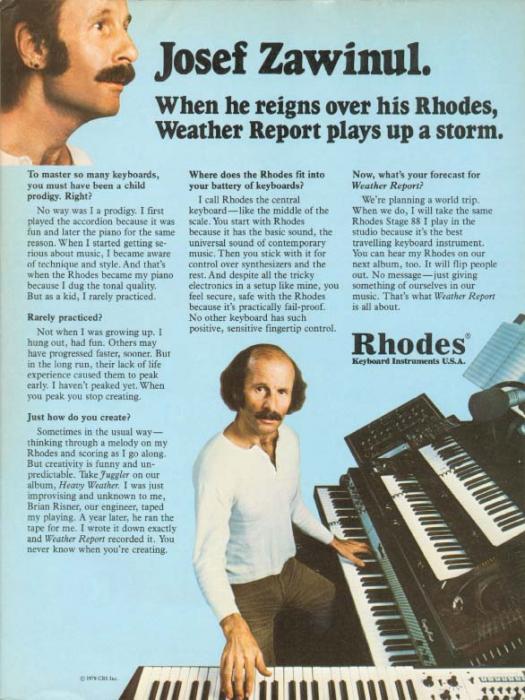 Zawinul eventually satisfied his composer ambitions with Weather Report, creating jazz standards and mixing various genres in his aesthetic arrangements by weaving folk elements of many cultures from the countries of the
Middle East
to 
Africa
. In
1970
, he gradually dropped the electric piano in favor of rapidly developing synthesizers which he boosted to the level never thought possible of so-called "unfeeling machines".
Weather Report finally reached the level of widespread appeal, expanding to listeners beyond jazz and prog rock fans. Zawinul and Shorter remained the steady constant in a revolving cast of band members such as Jaco Pastorius, Peter Erskine, and Airto Moreira.
Watch Weather Report's Birdland performed in Stadthalle Offenbach in 1978:
In 1986, Weather Report was disbanded after the contract ended, but the founders had no desire to renew it and seemed more inclined to start their own projects.
Zawinul later recalled making this decision:
"...the name Weather Report suffocated me and Wayne. Weather Report was more well-known than we were. Weather Report toured and did a record every year and there was no time for me to do anything else."
He also believed that he bore the main creative burden when creating the group's repertoire:
"It was a great partnership for 16 years and Wayne did work too, but the main load was dropped in my lap and I wanted to get away from this and he also wanted to get away. There was a great opportunity to do so. You play 16 years together and what do you want in life, you know? With a great musician like Wayne, it was fantastic and we're still great friends today, but it was time. I'm very happy that we did it."
After Weather Report, Zawinul fronted the Zawinul Syndicate which swayed world music scene for two decades, attracting dozens of musicians to play in the band at different times.
He also found a renewed interest in classical music while collaborating with Viennese pianist Friedrich Gulda in 1993, in a production of a symphony Stories of the Danube.
Joe's final album, 75, was recorded live on his 75th birthday in Switzerland. By then, Joe was suffering from terminal cancer.
He died in Vienna, on September 11, 2007.