Down by the Salley Gardens: famous Yeats poem evoking old Irish love ballad was set to the traditional air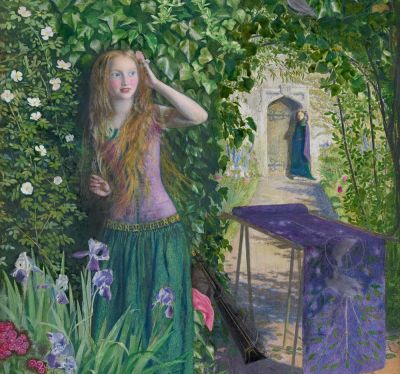 Fair Rosamund by Arthur Hughes
Down by the Salley Gardens is a famous two-stanza poem by the Irish poet William Butler Yeats whose contribution to the transition from the nineteenth century into twentieth-century modernism in literature is often compared to the role of Pablo Picasso in painting. Originally published under the title An Old Song Re-Sung in 1889, the poem—according to the author's note—was "an attempt to reconstruct an old song from three lines imperfectly remembered by an old peasant woman in the village of Ballisodare, Sligo, who often sings them to herself."
The song sung by the peasant woman mentioned by Yeats is most likely the Irish love
ballad
The Rambling Boys of Pleasure
where the third stanza is not only similar in content to the poem but also contains the same rhymes.
Thematically, Down by the Salley Gardens is a kind of lament of a man recalling meetings with his beloved when he was not sensitive enough to the girl's tender words about the nature and essence of love. The storyteller realizes that he was young and foolish but now he is full of tears. Focusing on the emotions of lovers intermittent with colorful metaphors that connect the narrative, Yeats does not delve into the explanation of what exactly happened between the characters in order to allow for individual perception and give each reader a chance to form their own interpretation.
In 1909, the poem was first arranged as a song by Irish composer and folk music collector
Herbert Hughes
who used the famous traditional air
The Moorlough Shore
to set the melody. Over the past century, many composers including
Benjamin Britten
, Ivor Gurney, and John Corigliano wrote music for 
Down by the Salley Gardens
but it was the folk version by Herbert Hughes that became the most popular.
Listen to
Down by the Salley Gardens
 sung by 
Andreas Scholl
with Orpheus Chamber Orchestra:
The name Salley Garden comes from the Gaelic word saileach which means willow. Irish villagers cultivated willow plantations to primarily use flexible branches of the trees for the thatched roofs of their homes and naturally, willow gardens were favorite places for young lovers to meet.
Down by the Salley Gardens by William Butler Yeats
Down by the salley gardens my love and I did meet;
She passed the salley gardens with little snow-white feet.
She bid me take love easy, as the leaves grow on the tree;
But I, being young and foolish, with her would not agree.

In a field by the river my love and I did stand,
And on my leaning shoulder she laid her snow-white hand.
She bid me take life easy, as the grass grows on the weirs;
But I was young and foolish, and now am full of tears.
Fair Rosamund by Arthur Hughes
: