Endless possibilities for one of the world's oldest instruments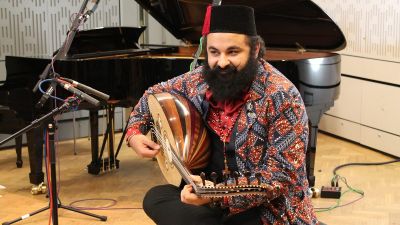 Joseph Tawadros
Joseph Tawadros was born in Cairo, Egypt in 1983 and moved to Australia three years later. Several members of his family were well-known musicians in Egypt, so it was only natural that Joseph would continue the tradition. 
Playing the oud was a somewhat unusual hobby for the 10-year-old Tawadros, growing up in inner-city Sydney. He first spotted the instrument in a film. Tawadros's parents pushed him towards academia, and he says he justified his hours of oud practice as part of his music studies. "It's something I really wanted to do. I really loved playing," he says.
Related to its European cousin the lute, the oud is the shape of half an egg or a pear, but bigger than a watermelon, with six or seven strings.
Tawadros writes of the instrument:
"The oud is not ethnic. It is not Arabic. It is not a broken guitar or a funny looking banjo but rather an instrument that holds its own and has something to say in any musical or emotional context."
Joseph Tawadros has toured extensively in Europe, America, Asia and the Middle East, and performed and recorded with a wide range of artists from diverse musical backgrounds.
He is one of the few artists to score an elusive ARIA hat-trick, and he pioneers new musical territory with a unique voice that spans over middle-eastern, jazz and classical genres.
Listen to the energetic Anubis from the album Band of Brothers:
Joseph continues to create modern platforms for one of the world's oldest instruments with unlikely accents including Hammond organ, vibraphone, accordion, tuba, and a banjo.
Despite having now released 11 albums, Tawadros still shies away from the term virtuoso:
"Miles Davies said you need two lifetimes to master an instrument, and I think you've always got to be a student of your instrument. You can never do everything on your instrument. That's the beauty of music – the endless possibilities."