Entrance of the Gladiators: military march by Julius Fučík found world fame as a screamer music for circuses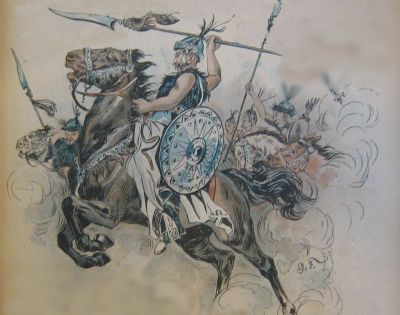 Entrance of the Gladiators
Entrance of the Gladiators is one of the world's most famous marches which has cemented itself in public awareness by appearing in circus performances over the past century. More specifically, the version everyone is familiar with is the one commonly heard in the climaxes of circus performances or as a screamer for clown shows.
The piece was originally written for marching bands by Czech composer Julius Fučík under the name Grande Marche Chromatique with the intention to demonstrate the suitability of modern brass instruments for performing complex chromatic music at high speeds.
Julius Fučík composed the march while serving as a military bandmaster of the Austro-Hungarian Army in 1899. Being impressed by the description of a gladiator entrance into a Roman amphitheater in Henryk Sienkiewicz's novel Quo Vadis, the composer decided to change the name from Grande Marche to Entry of the Gladiators.
Listen to Julius Fučík's Entrance of the Gladiators performed by Václav Neumann with Czech Philharmonic:
During the 1900s, several versions of the march for the string and symphony orchestra were created by such European composers as Hermann Ludwig Blankenburg and Kapellmeister Anton Fridrich. But the real triumph of Entrance of the Gladiators began overseas when the Canadian bandmaster Louis-Philippe Laurendeau made his arrangement of the march titled Thunder and Blazes for American Wind bands using a faster tempo and setting it in a different key.
Listen to Thunder and Blazes performed by Eastman Wind Ensemble:
It was the Louis-Philippe Laurendeau's rework that gained fame as a screamer march for circuses in North America and then spread to European countries. There is also a version of Thunder and Blazes for fairground organs that have further secured the march as one of the major tunes in the entertainment industry.
Listen to Thunder and Blazes performed on the Marenghi Fairground Organ: