The first-ever music for solo theorbo by Kapsberger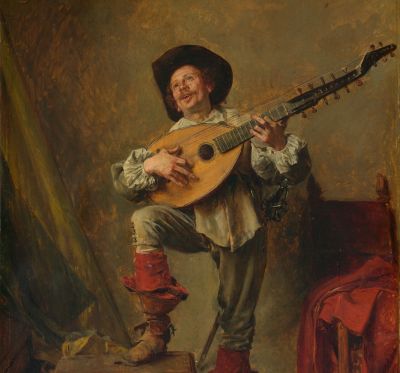 Soldier Playing the Theorbo by Ernest Meissonier
Giovanni Girolamo Kapsberger
was an Italian composer of German origin whose creative activity occupied the transition period from the
Renaissance
to the
Baroque
when the evolution of instruments and compositional methods was radically changing the musical landscape and making music more secular. Most of his career was spent in Rome where he won admirers of his innovative works as well as irreconcilable critics who considered his music untenable.
Currently, Kapsberger's work for the
lute
and
theorbo
is considered vital for their development as solo instruments, and his vocal music is also a subject of growing interest given that his ideas were quite progressive for the time although they did not take root during his life nor in subsequent
periods of musical history
.
Examining the negative reviews that have haunted the Kapsberger legacy for several centuries, the researchers discovered that all reviews can be somehow traced back to the criticism spread by music scholar Giovanni Battista Doni who claimed that the Sistine Chapel choir refused to sing Kapsberger's compositions due to its complex modulations and violation of the counterpoint principles of that era. After checking with the very organized records found in the Sistine archives, musicologists failed to find any mention of such an event but instead unearthed an example of how Kapsberger, having risen to the chapel's balcony, personally thanked the performers for the excellent singing.
Despite conflicting opinions about Kapsberger's talent as a composer, all sources emphasize his unsurpassed mastery of theorbo and distinguish the importance of his theoretical and educational publications devoted to the instrument. Here is a translation of a poem by Giovanni Ciampoli describing the performing skills of Kapsberger who played at the coronation of Pope Urbano VIII.
"Armed with long strings,
the thebo, Phoebus' friend,
with German fire lightning and thunder."
Released in 1604, Kapsberger's Libro primo d'intavolatura di chitarrone is the first known publication for solo theorbo which is now in high demand, ever since the renewed interest in early instruments has started growing all over the music world.
Listen to Kapsberger's Chaconne from Libro Quarto D'intavolatura di Chitarone performed by Fred Jacobs:
Throughout his life, Kapsberger has published more than thirty books for various instruments of which about a dozen are considered lost. Beginning in 1630, Kapsberger publications entered a ten-year hiatus which historians attribute to the disgraced position of the composer due to his close acquaintance with Galileo Galilei who was persecuted by the Inquisition at about the same time.