Indecent Ciaconne dance came from the New World and swept Europe off its feet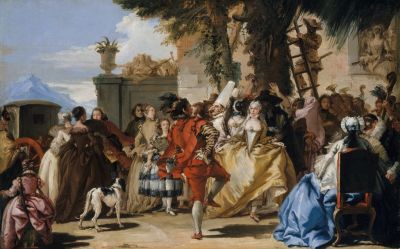 The Dance in the Country by Giovanni Domenico Tiepolo
Composer:
Antonio Bertali
Chaconne or Ciaconne is a fiery dance popularized in Spain in 17th century which later gave birth to a new musical form. Its actual origins can be traced to the New World, and some musicologists believe it might've come from Mexico.
In Spain, performed with castanets either as a solo by a woman or a couple, the
dance
was actually perceived as vulgar. Even then, it soon spread to Italy where it was considered just as disreputable. During the 17th century, one of the
ciaconne
 variations gained favor at the French court, later appearing rather frequently in the stage works of
Jean-Baptiste Lully
.
The form was widely used by composers during the Baroque period and long after. Johann Sebastian
Bach
's
Chaconne
 from the Partita in D Minor for unaccompanied violin is an example of a masterful variation of the dance.
Another variation is authored by Antonio Bertali, a hugely influential Italian composer and violin virtuoso, whose modern reputation pales in comparison to the fame he achieved in his own lifetime.
Here is Bertali's Ciaconna in C Major performed by Freiburg Baroque Orchestra ensemble which beautifully reveals the playful structure of the dance: 
Another wonderful 
ciaconne
compilation by the Chatham Baroque ensemble:
SoundCloud
link.