Fresh take on the The Isle of Man folk tradition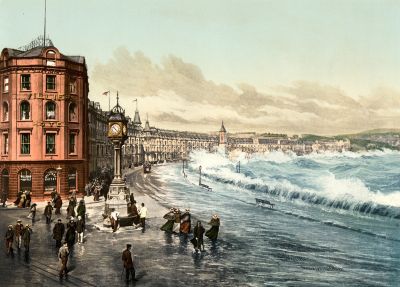 Douglas, Isle of Man, 1890s
The Isle of Man, or Mann, is an island in the Irish Sea which small but proud nation can boast a vast cultural heritage that reflects, above all, its Celtic and Norse roots.
It is not surprising that Manx folk music is unusually rich after centuries of absorbing the traditions of various cultures. The best way to enjoy this well-preserved but evolving musical phenomenon is to visit the island's capital, Douglas, on the largest annual event — the Manx Music Festival that was first established in 1892.
The unique sound of traditional Manx music is the Celtic World's best-kept secret. This is set to change with the introduction of the band Barrule, the award-winning trio hellbent on taking the Isle of Man's music to a much wider audience.
With their modern but sensitive arrangements, the trio presents a fresh take on traditional and contemporary Manx music. While sharing common ground with its Celtic cousins, as well as the English tradition, Manx music has retained its own particular and inherent Manxness: an atmosphere evoked by the music that speaks of the natural beauty of the island and the lives of its inhabitants.
Barrule's music showcases a diverse collection of traditional forms such as jigs, reels, slow airs and songs sung in the Manx Gaelic language.
Here is their pretty lively Mylecharaine's March: