Full-method approach to the score for Shakespeare's play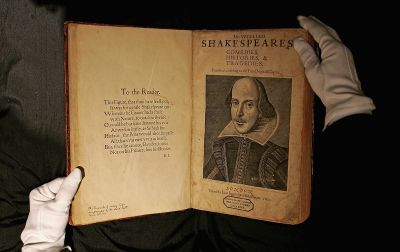 William Shakespeare's original works from 1623
The classic Shakespeare play The Merchant of Venice had seen many adaptations, one of them a 2004 venture for the big screen directed by Michael Radford with Al Pacino in the lead role of Shylock.
The film was shot almost entirely in Venice, featuring perhaps one of the most beautiful sets: the former Benedictine monastery of San Giorgio Maggiore located on a small island in front of St Marks.
Composer Jocelyn Pook's pictorial score is quite fitting for the story's setting and contains no orchestra but is instead enriched by both medieval and renaissance ballad sounds.
Pook talks about the inspiration behind the score: 
"When Michael Radford first approached me about writing the music for his film The Merchant of Venice he felt strongly that the score should have a contemporary feel to it as well as evoking something of the period in which it is set, the late sixteenth century. So I began to immerse myself in renaissance music, hoping that something of these influences might find their way into the score I was about to write."
Not only does the score feature period-accurate instruments that give shape to the Shakespearean aesthetic, the lyrics also reflect the language of the time and are brought to life by the delightful vocals of Andreas Scholl and Hayley Westenra.
Pook's original pieces easily blend ancient and contemporary forms, relying on a small and talented group of musicians to capture Shakespeare's dramatic tale of love and give the film a vivid audio backdrop.
The composer fondly remembers the experience:
"The final recording sessions were an incredibly exciting and moving experience: witnessing the music being brought to life with the real instruments and the fine musicianship of the players; hearing the songs transform as the singers breathed life into them; it was really magical."
The piece How Sweet the Moonlight Sleeps features the lyrics based on the famous verse from the play:
Jocelyn Pook has worked on many great projects during her career, including Stanley Kubrick's Eyes Wide Shut and Julio Medem's Chaotic Ana.
Listen to Pook's tranquil 
Wonderland For Live Ensemble
 from the 2008 documentary 
Storm Over Everest
on 
SoundCloud
.