Garota De Ipanema: world's best-known bossa nova tune came to Jobim in a bar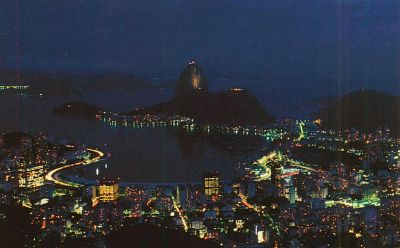 A Night In Brazil CD cover
Garota De Ipanema
is one of the best-known songs in the bossa nova genre, a dance style that originated in the
1950s
as a fusion of American cool jazz and Brazilian samba. The song title translates from Portuguese as the
Girl from Ipanema
—an area in South Rio de Janeiro with a famous beach. Deriving from the Tupi language, Ipanema quite paradoxically means "stinking pond".
As is often the case with dance hits, the song began with a melody that came to Brazilian composer
Antônio Carlos Jobim
 in a bar as he watched a beautiful green-eyed girl walk to the beach with a bewitching samba gait.
Jobim, who loved to visit the bar, soon found that the girl passed by regularly. On one occasion he invited the poet
Vinícius de Moraes
to admire this miracle, who immediately drafted the lyrics on a napkin which included the song's original title 
Menina Que Passa
, that is, "the girl who passes".
Listen to Antonio Carlos Jobim's
The Girl From Ipanema
performed by
Frank Sinatra
:
Garota De Ipanema
was first recorded in 1962 and gained worldwide fame only a year later after the American release of its English version with lyrics adapted by
Norman Gimbel
.
Curiously, the song ultimately influenced the toponymy of Rio de Janeiro, since the bar became known as Garota de Ipanema while the nearby street was named after Moraes.