Grieg's exquisite Norwegian cocktail of mountains, forests and sea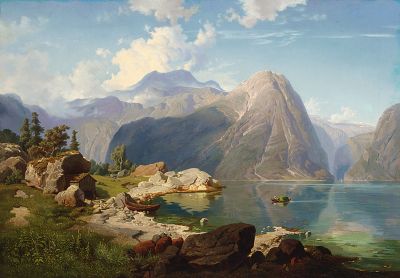 Hardanger Fjord by August Wilhelm Leu
Edvard Grieg composed the large body of his music surrounded by the scenic landscapes of the Hardanger fjord. Grieg's admiration for the Norwegian nature and its beauty was the essential part of his works. It is captured in the distinguished lyrical character and emotional depth which he expressed through delicate melodies and skilled harmonic plans. 
Norway's most famous composer dedicated his career to the pursuit of finding and showcasing the sound of his nation. He wrote in the Romantic period with the determination to "create a national form of music, which could give the Norwegian people an identity." Grieg's harmonies emerged as rich and challenging for the public that had been conditioned to certain expectations by classic compositions of
Mozart
and Haydn. 
In 1876, Grieg was asked by Henrik Ibsen to write the incidental music to Peer Gynt, a play about the Norwegian folk hero. Grieg originally composed twenty-two pieces to accompany the play which he later rearranged into two Peer Gynt Suites for concert performances, finding international success, especially with the Morning Mood tune.