Je te veux: Satie's love song refashioned as piano piece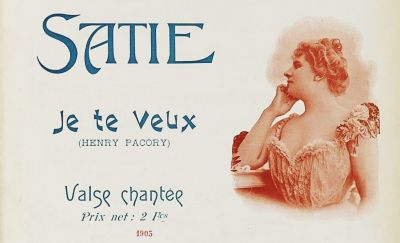 Je te veux original sheet сover
Je te veux
is one of the best-known pieces by the French Romantic composer
Erik Satie
, famous for popularizing his concept of background music that would form the basis of the
ambient
genre almost a century later.
Originally scored for piano and soprano,
Je te veux
was set to the eponymous poem by
Henry Pacory
, a close friend of Satie. Taking the form of a leisurely waltz, the adaptation perfectly complemented the sensual and sometimes erotic lyrics, contributing to the love song's ample popularity at the very beginning of the 20th century.
Over the years, the classical song styles of the
Romantic era
have largely lost their appeal, overshadowed by simpler vocal pop music, so
Je te veux
 in its original form is hardly capable of intriguing the mainstream audience. Nonetheless, its calm piano adaptations are invariably present in numerous classically oriented soothing playlists.
Compositionally, Je te veux follows the key of E minor and reveals the ternary musical form in which the opening and closing sections vary the main theme while the middle section introduces harmonic, rhythmic, and thematic contrasts.