Hero's colors come alive with silk violin strings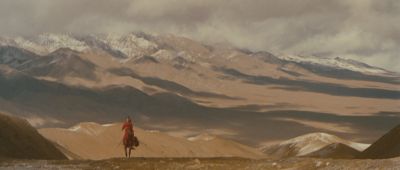 Hero, an undeniable martial-arts classic, is an epic collaboration between Zhang Yimou, perhaps the biggest name in Chinese film industry, and the Australian cinematographer Christopher Doyle who is famous for his unique approach to color and framing.
The film's main story unravels through the conversation between the anonymous assassin—Nameless—and the emperor. Having allegedly killed his three rivals, the protagonist is able to get close to the emperor as a reward, while his true mission lies in the king's assassination. Curious, the emperor inquires Nameless of how exactly he was able to accomplish this task.
Nameless recounts the story several times, and only the last one is true. Each story has its own color that depends on how close it is to the truth: the first world is red, the others blue, green, yellow, and eventually white.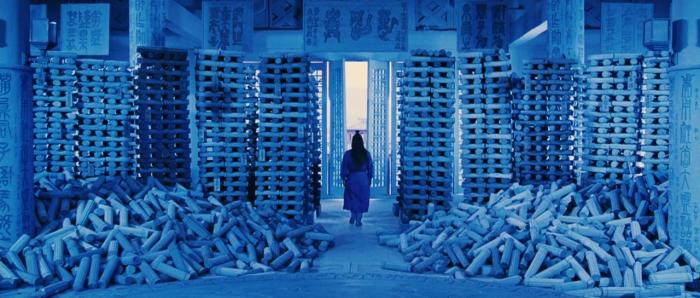 The film was scored by Tan Dun who decided from the very beginning that:
"...the music should feature the flavour of northern China and the emotion the music implies is concern for its boundless land. The theme tunes are both romantic and profound."
The very specific sound of violin solos, performed by famous violinist Itzhak Perlman, was accomplished by replacing regular violin strings with silk ones to emulate the general feeling of the traditional music of that time. The idea came to Tan from a history book that described a stringed instrument called the qinxianzi that possessed a hoarse but high-pitched timbre. Tan noted:
"The unheard sound produced by the lost ancient stringed instrument kept lingering in my mind and I wanted to recapture the sound because it would fit the mood of the movie." 
Tan, who has studied traditional Chinese instruments, introduced a number of them, such as the erhu, sanxian, and guqin, through his music.
In the Hero score, instead of focusing on Chinese music tradition only, Tan encompassed a broader range of East Asian sound by introducing Japanese taiko drums recorded by the group Kodo. 
The difficulties came about when Tan discovered that Kodo drummers usually play relying on a kind of oral rhythmic pattern instead of written score and therefore could not figure out how to follow it at first. Tan then had to read the score out for them, and to his surprise, on the very next day the musicians already could play it in its entirety by ear without a single mistake.

Aside from Perlman and Kodo, the soundtrack also features the China Philharmonic Orchestra, 50 bass singers, a soprano and a guqin player.
Overall, the score's harmony shows how a unique balance can be achieved through the blend of the Eastern and Western music traditions.
A vivid example of this fusion is the track Longing, a meditative Tibetian harmony based on slowair Celtic motifs: 
One more variation of the Longing theme is reiterated in the Home tune: