Larks' Tongues in Aspic: the classic theme behind best prog-album opener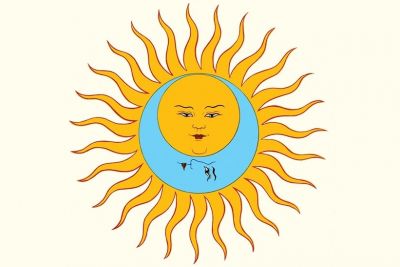 Larks' Tongues in Aspic by Tantra Designs
Larks' Tongues in Aspic
is a pentalogy of instrumental suites recorded by several generations of musicians for the English prog-rock band
King Crimson
over four decades. The first two pieces appeared on 
Larks' Tongues in Aspic
 in 1973 for which the bandleader
Robert Fripp
completely revamped the lineup in order to implement his newer ideas focused on European modernism and improvisation.
The first suite from the pentalogy—the thirteen-minute Larks' Tongues in Aspic, Part One—is considered by many to be the best album opener in the history of prog rock. Indeed, the piece demonstrates contrasts unprecedented for rock music of the time, completing the experimental percussion with jazz drums and heavy metal-style guitar riffs all of which is accompanied by classic violin tremolos.
Particular attention deserves the first suite violin intermezzo performed in the spirit of classic English rhapsodies. The intermezzo can be heard from 7:50 to 11:50. Composed by King Crimson violinist
David Cross
, these soaring passages were probably intended to imitate the flight of a lark, and their melody strikingly resembles the violin theme of
Vaughan Williams
's influential tonal poem
The Lark Ascending
.
Listen to Larks' Tongues in Aspic, Part One by King Crimson:
Curiously, David Cross was quite surprised by how strongly his intermezzo resonated with Williams'
The Lark Ascending
when he performed this classic work years later. Here are his thoughts on the matter:
"At the time of recording I don't think that I knew The Lark Ascending. I was seeking to create an open space fresh air moment and the part I created seemed to fit the bill. Years later when I played The Lark Ascending I too was struck by the similarity with that Larks' Tongues Intermezzo passage. It is a very well known piece of music, so it seems likely that I must have heard it before that date but I wasn't consciously referring to it at the time. I think the biggest coincidence is the name."
Another highlight of Larks' Tongues in Aspic, Part One is Fripp's harsh electric guitar that can be easily considered "super heavy" even by modern standards. The first appearance of this ferocious guitar riff over the muffled percussion cacophony can be quite shocking for someone who, listening to the suite for the first time, inadvertently twists the volume knob in order to discern the soft instrumental of the long intro.