Ludwig August Lebrun: the sweet genius of Mannheim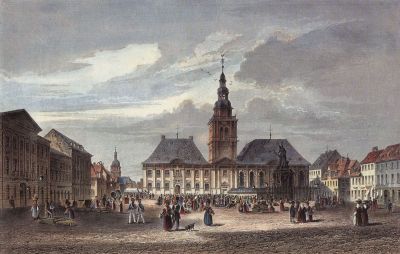 Mannheim by Joseph Maximilian Kolb
Ludwig August Lebrun (1752—1790) was a phenomenal German oboist who contributed several mellow oboe pieces to the instrument's repertoire.
Lebrun was born in Mannheim in the family of the oboist Alexander Lebrun, who was a member of the famous Mannheim orchestra and served as Ludwig's teacher. 
At the age of 12, Lebrun was admitted to the Mannheim orchestra with the status of the scholar, meaning he was learning orchestral playing by sitting in with the orchestra at least during rehearsals. He was made a full member at the age of 15 and stayed in the orchestra until his death. 
Lebrun was an outstanding musician even by the standards of that elite orchestra. Christian Schubart, famed poet and Lebrun's contemporary, said: 
"One of the greatest musical geniuses that I have ever come across was [Lebrun] ... who has attained the maximum in perfection on the oboe. He overcomes all difficulties of his instrument, plays easy and difficult works, inspires wonder and sweet feeling, expresses foreign works as well as his own, and is, in a word, an original mind." 
In 1778, Lebrun married the "famous and great" soprano singer Franziska Danzi, daughter of a famous musical family and elder sister of composer Franz Danzi. 
Ludwig frequently absented himself from the orchestra in order to accompany Franziska on her professional engagements around Europe. Traveling with her to London, Paris, Vienna, and Italy, Ludwig sometimes gave solo concerts and sometimes performed with Franziska.
Parisian gazette The Mercure de France praised Ludwig:
"Far from sounding contrived on his instrument, there is apparent in his playing, especially in the high register, a soft, velvety quality, a sweetness which one can hardly believe possible. His execution is rare perfection, and his compositions which utilize the oboe bring together elegance, richness and variety." 
While most comments centred on Lebrun's performance, it is his remarkable compositions for which he is remembered today, particularly through the words of Christian Schubart:
"His compositions are exceedingly fine and sweet, like drops of nectar. He has produced ballets and chamber pieces which are evidence of the most refined taste. The ethereal beam of genius flickers in everything that he writes, that he performs. He has thus rightly earned the admiration of France and Germany."
International success reached a high point on the first trip to Berlin in 1789. On a return trip in the fall of 1790, Ludwig fell ill from inflammation of the liver and exhaustion from the trip and died in mid-December.
Following him, Franziska died only five months later, "from grief over her husband's death".