Mairzy Doats lyrics inspired by 15th century nursery rhyme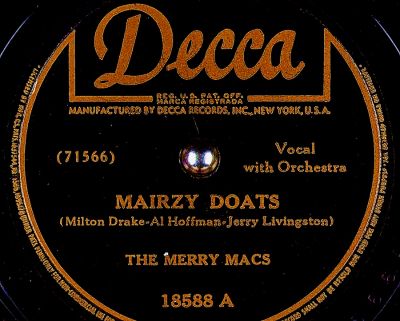 Mairzy Doats by The Merry Macs
Mairzy Doats
is a notable nursery rhyme song written in the
1940s
when parody and humor songs were in high demand. The lyrics were composed by
Milton Drake
who had been impressed by the children's poem he'd heard from his four-year-old daughter.
According to Drake, his daughter came home cheerfully humming the playful phrase "cowzy tweet and sowzy tweet and liddle sharksy doisters" which she probably took from "cows eat wheat and sows eat wheat and little sharks eat oysters."
After finishing the lyrics of
Mairzy Doats
, Drake turned to
Al Hoffman
and
Jerry Livingston
to compose a funny melody but he ran into difficulties with publication as no one dared to release such a "silly song." Only a year later, the song came to the attention of
Al Trace
who liked it very much and immediately recorded it, deciding that it fit perfectly with the repertoire of his band the
Silly Symphonists
.
Al Trace's recording of Mairzy Doats quickly hit the pop charts and attracted a lot of interest from other artists, so over the next year nearly two dozen versions were recorded of which The Merry Macs' cover reached No. 1.
Curiously, English folklore scholars have discovered that some of Mairzy Doats' phrases appear in an old catch which can be traced back to the joke "Is gote eate yvy? Mare eate ootys" mentioned in the 15th-century manuscript.