Mariachi tradition and Cuban dances live in the informal hymn of Mexico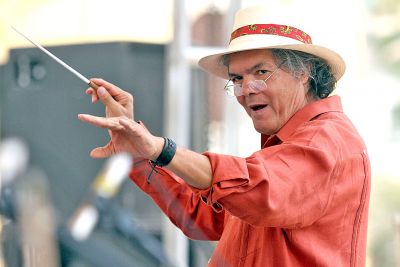 Arturo Márquez
Arturo Márquez was born in 1950, in Alamos, a town deeply immersed in the Sonoran desert.
His father played the violin in a mariachi ensemble and worked as a carpenter when the family needed to make ends meet. Naturally, Márquez' first music education consisted of listening to the traditional music, waltzes, and polkas performed by his father's band.
Later, Márquez' family moved to Los Angeles where Arturo began to study violin and other instruments at his junior high school. 
Márquez said about his musical environment:
"My adolescence was spent listening to Javier Solis, sounds of mariachi, the Beatles, Doors, Carlos Santana and Chopin." 
He entered the Mexican Music Conservatory in 1970 upon his return home. Later he received a scholarship from the French government to study composition in Paris. 
Until the early 1990s, Márquez' music was largely unknown outside his native country. That changed when he was introduced to the world of Latin ballroom dancing. The movement and rhythms led him to compose a series of pulsating Danzones. 
The Danzones are a fusion of dance music from Cuba and the Veracruz region of Mexico. The most popular of the Danzones is the Danzón No. 2 which was commissioned by the National Autonomous University of Mexico, and because of its popularity, it is often called the second national anthem of Mexico.
Listen to Danzón No  2 interpretation for guitar quartet by Cuarteto de Guitarras de la Ciudad de México:
Mariachi is a small Mexican musical ensemble composed of a variety of mostly stringed instruments. In addition to referring to an ensemble, the term mariachi is also used for the individual performer of mariachi music or for the music itself. 
The mariachi orchestra emerged in the late 1700s in west-central Mexico. The word mariachi may have come from the now-extinct language of the Coca people, but both the word's etymology and the early history of the form and its followers are unknown.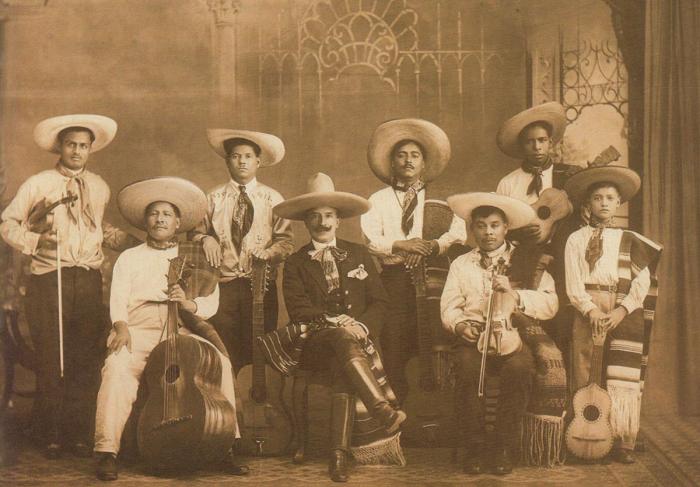 The typical instruments of contemporary mariachi include the vihuela, a five-string guitar; the guitarrón, a large, fretless six-string bass guitar; a standard six-string acoustic guitar; and violins and trumpets, which usually play the melody.