Japanese traditions meet Western avant-garde in reflective tunes of Toshio Hosokawa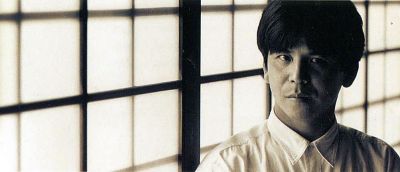 Toshio Hosokawa CD cover
Artist:
Christian Rivet, Emmanuel Pahud
Japanese contemporary composer of extraordinary aerial themes, Toshio Hosokawa, draws inspiration from the ancient traditions of his country, comparing the meditative nature of his music with the art of contemplation.
By associating
Zen breathing
technique with musical harmony, Toshio Hosokawa creates a sound contrast while using an unexpected combination of instruments: he writes pieces for
classical guitar
and
flute
or for
accordion
and viola. His works show a distinctive style, covering such different topics as
Gagaku
Imperial music, the simplicity of pastoral life, and the horrors of war.
Born in Hiroshima in 1955, Toshio Hosokawa moved to Tokyo to study piano as a teenager. He continued his education in composition while living in West Berlin between 1976 and 1986.
As a child, he developed musical associations watching the harmony in countryside nature:
"...when I was a child I spent a lot of time in the countryside with my parents. I still remember that time and those happy memories it brings back, are very important to me. I'm not so naïve about nature; I always look for the harmony within the environment and this is what I try to show in my music."
Considering European music too linear, Toshio Hosokawa searches his slow motives in rich comparisons that are traditional in Japanese art:
"Sound is like a blossom, because it comes and goes and the silence is not nothingness, the silence is full of sound if we could only hear it. If I can put this very strong intensity in the silence, then the sound becomes stronger. To make a strong sound we need a very strong silence."
Listen to Itsuki no komori uta performed by Emmanuel Pahud and Christian Rivet:
Viewing the rich culture of his native country to be an extremely important source for filling all aspects of creativity such as music, calligraphy, and architecture, Toshio Hosokawa clearly feels a lack of attention to classical music in modern Japan:
"In Japan there is a very small scene for classical music with selected audience, which makes it very hard for the musicians. On the other hand they have lost the habit of communicating with each other and there are no interactions between different styles. What makes it even harder for us is that younger people like pop music and they don't listen to our contemporary music."
He believes that his path is to see the reality through the sounds which he creates with natural beauty, hoping that, with the passage of time, people will learn to listen to contemporary classical music.