Modern jazz trumpet for gifted Mozart scholar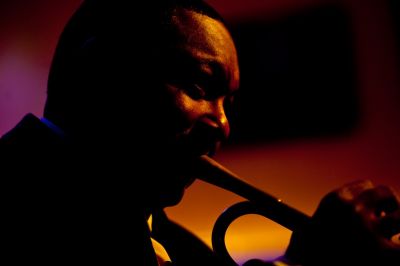 Wynton Marsalis by Luigi Beverelli
Johann Nepomuk Hummel (1778–1837) was an Austrian composer and outstanding virtuoso pianist during the transition period between Classical and Romantic.
In his youth, Hummel studied with
Wolfgang Amadeus Mozart
 with whom he lived for two years in Vienna. Later, Hummel proved to be a fruitful composer, working in almost every genre available at the time, which helped establish his reputation and popularity in upper-class circles.
His clear and fluid piano pieces were well-suited for the light Viennese performances, most of them private parties, but this accessibility meant a certain lack of emotional depth in his works, at least compared to his contemporary
Ludwig van Beethoven
, the composer with whom Hummel maintained a difficult friendship. Despite all, Hummel was a pallbearer at Beethoven's funeral.
One of Hummel's signature pieces, Trumpet Concerto In Eb Major, was written in 1803 for the Viennese trumpet virtuoso and inventor of the keyed trumpet Anton Weidinger. It saw its first performance a year later, on the New Year's Day.
However, due to the obsolescence of the trumpet for which it was written—since Weidinger's prototype has seen many changes—this piece had been forgotten for almost 150 years until it was re-discovered in 1958 by a Yale student.
Hummel's Trumpet Concerto performed by the phenomenal American trumpeter Wynton Marsalis with National Philharmonic Orchestra conducted by Raymond Leppard:
Wynton, who has been lauded for his work in both jazz and classical music, made history by winning two Grammys in 1983 for this recording and his Think of One jazz album, becoming the first and only artist to win classical and jazz Grammy Awards in the same year.