The mohan veena: classic instrument developed by Radhika Mohan Maitra is a child of veena, sarod, and sitar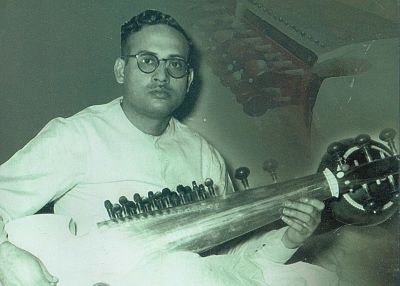 Radhika Mohan Moitra
Gharana:
Senia-Shahjahanpur
Piece of Music:
Bageshri raag
Radhika Mohan Maitra
was an outstanding Bengali musician who enriched the Hindustani classical tradition by not only combining instrumental skills of two prominent 
gharanas
to create a new performing style but also introducing a unique musical instrument the 
mohan veena
, developed by the maestro himself in his search to refresh the sound of Indian classics.
Already at his debut at the All India Music Conference in Allahabad in 1937, Radhika Mohan Maitra was highly praised by contest jury in the person of
Allauddin Khan
himself. Amazed by an original talent of the young
sarod
player, Allauddin Khan invited him to take part in his own recital, an unprecedented event as, traditionally, only the students of a guru were allowed to perform with him.
Subsequently, when Radhika Mohan Maitra's recitals were broadcasted at the All India Radio, Allauddin Khan often gathered his pupils around the radio to discuss Maitra's flawless performing technique on the sarod. 
One of Allauddin's student recalls his guidances: 
"Do you hear him? He is a zamindar's son. He doesn't need to do this for a living. Still, see how crisply his jaba (plectrum) is cutting the strings!"
Maitra has always preferred sarod to other Indian instruments since its fretless construction allows to artfully perform Indian classical music which is mainly based on glissando and microtone techniques. Despite the obvious advantages of fretless design, Moitra was always worried about a lesser sound of his favorite instrument compared to a
veena
or
sitar
which both have a wooden upper deck as opposed to a leather sarod resonator.
In his search, Maitra mastered the sursingar—a rather rare instrument of the sarod family with a wooden deck providing the desired deep sound rich with overtones. However, its size required a different performing technique, which forced Maitra to look for a new sound after several concerts with the sursingar.
Finally, Maitra designed a completely new musical instrument combining all the advantages of most common Hindustani instruments. In his mohan veena, the maestro installed a wooden deck, advanced string bridge from the sitar, added an extra resonator on the neck edge used in the veena and a fretboard from his beloved sarod.
Listen to Bageshri raag performed by Radhika Mohan Maitra:
It is believed that
Bageshri raga
is most suitable for late nights since it depicts the emotion of a woman waiting for reunion with her lover. According to legend,
Bageshri raag
was first performed by
Mian Tansen
—the 16th-century singer who
could bring rain with music
.
Bāgeshrī raga
is performed in Kafi thaat which is equivalent to the
Dorian mode
of Western classical music.