100 years for 1 career: the great artist and teacher Allauddin Khan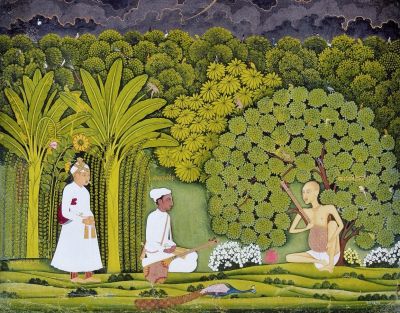 Akbar and Tansen visit Haridas
Piece of music:
Raag Emni Bilawal
Allauddin Khan was the great Bengali multi-instrumentalist and composer who, to this day, remains one of the most renowned North Indian music teachers.
He was born in 1862 in Shibpur village in Brahmanbaria, located in today's Bangladesh. Descendants of Mian Tansen, a 16th century musician in the court of Emperor Akbar, the Khan family had always had close ties with music. Khan's father was a sitarist while Allauddin's older brother Aftabuddin played flute, tabla, and dotora. Supposedly it was his brother, not his father, who first introduced Allauddin to music.
Growing up in such a revered musical family had had a limiting effect on Khan's musicality; so much so that he ended up running away from home at the age of ten and was eventually picked up by a traveling Jatra theatre.
Being part of the group finally allowed Khan to explore everything that he could not at home: the rich and ancient traditions of Bengali folk art. He soon learned to play Indian drums and wind instruments including clarinet, cornet, and trumpet.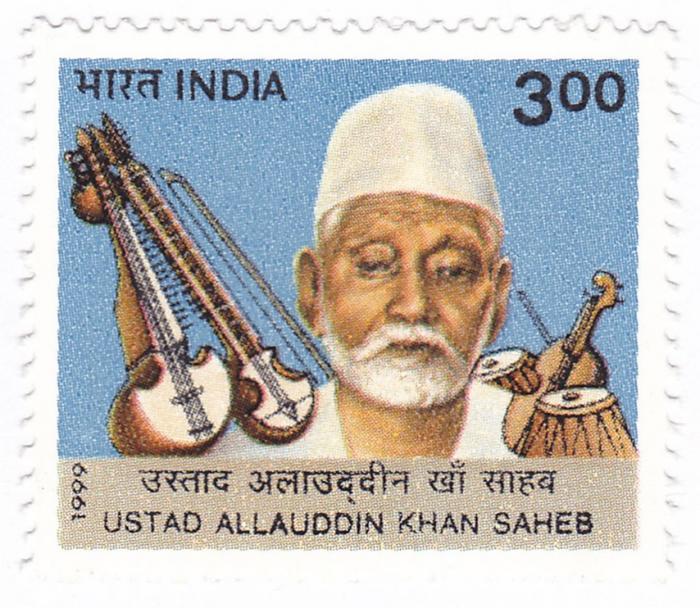 A great master of rhythm, Khan created unique pieces of music that proved to be timeless, including ragas such as Arjun, Bhagabati, Chandika, and Dhankosh. Khan also could quite impressively perform around 1,200 compositions which helped expand his teaching practice, making him the most sought-after music mentor. 
Not only Allauddin Khan taught his now famous children 
Ali Akbar Khan
and Annapurna Devi the art of Indian Classical music, he also fostered the growth of virtuosos such as 
Ravi Shankar
,
Nikhil Banerjee
, Vasant Rai, and Pannalal Ghosh.
Nikhil Banerjee said this about the tough image for which Khan was so famous:
"(It was) deliberately projected in order not to allow any liberty to the disciple. He was always worried that soft treatment on his part would only spoil them". 
Khan's musical career spanned over a century—he passed away in 1972 at the age of 109—which gave him just enough time to master (presumably) around 200 instruments.
Listen to a 1959 All-India Radio recording of Raag Emni Bilawal played by Allauddin Khan on sarod:
Emni Bilawal is a morning raga that conveys the feelings of deep devotion and repose. It belongs to Bilawal thaat, the equivalent of the major scale in Western music, which makes the raag more accessible for the European ear. Curiously, the Indian national anthem Jana gana mana is also sung in Bilawal thaat.