MTV and EMI did not appreciate the concept of Kate Bush's iconic Running Up That Hill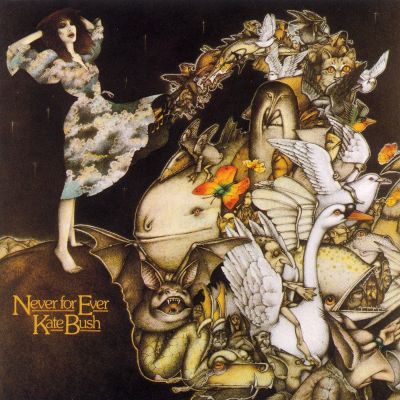 Kate Bush's Never For Ever LP
Running Up That Hill, initially titled A Deal with God, is no doubt the most iconic work of Kate Bush which came to life one summer evening of 1983 but only saw release in 1985. 
The music video featured Bush performing an interpretive dance with Michael Hervieu which was choreographed by Diane Grey.
Bush wanted the dance to be more of a classical performance, stating: 
"being used quite trivially, it was being exploited: haphazard images, busy, lots of dances, without really the serious expression, and wonderful expression, that dance can give. So we felt how interesting it would be to make a very simple routine between two people, almost classic, and very simply filmed. So that's what we tried, really, to do a serious piece of dance."
MTV chose not to show this video and instead used a live performance of the song. According to Kate's brother Paddy Bush who was part of the band: 
"MTV weren't particularly interested in broadcasting videos that didn't have synchronized lip movements in them. They liked the idea of people singing songs."
EMI, in turn, refused to release the song with its original title of A Deal with God, fearing of possible negative reception because of the controversial use of the word 'God' in the idiomatic phrase usually implied for dealings with the Devil.
Kate changed the title, but this fact strongly influenced her attitude towards the music industry:
I was trying to say that, really, a man and a woman, can't understand each other because we are a man and a woman. And if we could actually swap each others roles, if we could actually be in each others place for a while, I think we'd both be very surprised! And I think it would be lead to a greater understanding. And really the only way I could think it could be done was either... you know, I thought a deal with the devil, you know. And I thought, "well, no, why not a deal with God!" You know, because in a way it's so much more powerful the whole idea of asking God to make a deal with you.

You see, for me it is still called "A Deal With God", that was its title. But we were told that if we kept this title that it wouldn't be played in any of the religious countries, Italy wouldn't play it, France wouldn't play it, and Australia wouldn't play it! Ireland wouldn't play it, and that generally we might get it blacked purely because it had "God" in the title. Now, I couldn't believe this, this seemed completely ridiculous to me and the title was such a part of the song's entity. I just couldn't understand it.
She also noted:
But none the less, although I was very unhappy about it, I felt unless I compromised that I was going to be cutting my own throat, you know, I'd just spent two, three years making an album and we weren't gonna get this record played on the radio, if I was stubborn. So I felt I had to be grown up about this, so we changed it to 'Running Up That Hill'. But it's always something I've regretted doing, I must say. And normally I always regret any compromises that I make.
The song was covered extensively over the years, but the most noteworthy version might belong to Placebo: